How PR gets through the summer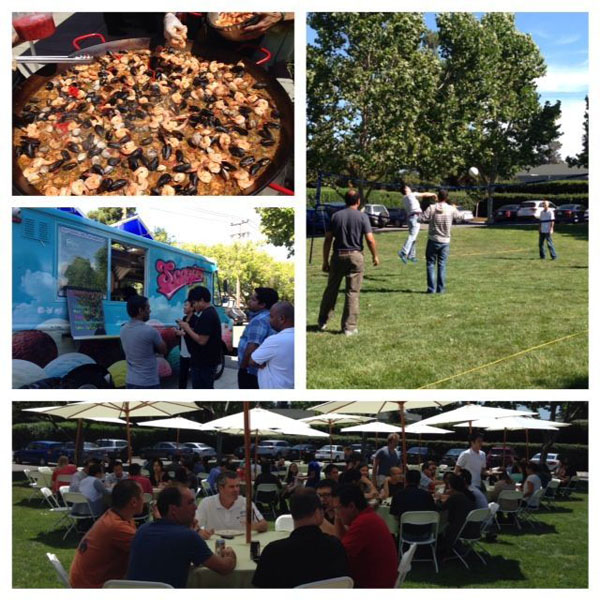 Summer and work go together like ice cream and turkey gravy (although Heston Blumenthal might think that is quite a tasty combination). However, to attempt to limit holiday jealousy and persuade their employees that it isn't all bad being stuck in the office, PR firms are attempting to brighten up the summer months.
Capers at PR firm Grayling, described by Chris Owen, director:
Party in the park: "We've embraced the British attempt at a summer with a party in the park, with drinks, sack races and a rather competitive game of rounders which proved to show who in the company takes things a lot more seriously than we initially imagined."
Ice cream at computers: "We've also enjoyed ice creams being wheeled out into the offices when the mercury hit 30 degrees – ad hoc treats which went down extremely well, even if it did mean one person had to call IT for a new keyboard after dropping a Cornetto on it."
Mark Knight, director at PR agency Broadgate Mainland, discusses summer in his agency:
Wine and sunshine: "We are a friendly, social agency all year round, but there is nothing like the sun coming out in London to get everyone's spirits up. The team often head out for a cold glass of wine in the sunshine after a hard day's work."
Sports day: "The summer also brings our eagerly anticipated annual sports day event where we pack a picnic and head off to the local park to humiliate ourselves with old-school events. The teams pitch against each other with favourites such as the sack race, egg and spoon relay and our highly coveted annual limbo competition where our staff battle it out to win the ultimate champion title! Everyone who attends the sports day donates money to our chosen charity so it's also nice way to raise money for a very worthy cause."
Helen Proud, director and partner at PR firm Lansons, on one way the agency parties:
Beach party: "We organise a themed party for all staff every summer. This year, the theme was 'beach patrol' with invitations delivered to desks as a message in a bottle and we were all split into different teams – there is always a somewhat competitive element to our parties, and a secretive one too. Our social committee is responsible for organising the party, with all details kept top secret (the venue remains a secret until we actually arrive!). This year, we were also treated to meatballs for lunch the next day with a food truck taking up residence in the courtyard."
Jo Doverman, junior account executive at agency Pic PR, describes antics in the office:
New toys: "We've recently had a refurbishment and with it came some awesome toys for all the big kids in the office. We have a foosball table and a table tennis table for lunchtime friendlies, although it can get quite competitive! Downstairs, we have a retro jukebox to play all kinds of classic hits, which keeps us motivated throughout the day, especially when the sun is shining."
Summer BBQ: "Every Friday we all chip in and share a crate of (well deserved) cold beers and wind down with a mini BBQ. To top it off, we've made a deal with the ice cream van to take a special route via the Pic PR offices! Beer in one hand, 99 ice cream cone in the other – it's the perfect start to a summer weekend."
Emma Prince, consultant at agency Claremont Social Communications, outlines a couple of the agency's summer tactics:
Health food: "The reality is the better you eat and drink, the better you feel, and feeling good means more chance of fun (don't hold me to that though). So we always make sure we have a selection of summer fruits in the office, from strawberries and raspberries to cherries and blueberries. In addition we all drink plenty of water to stay hydrated in the summer heat".
Dress code: "We're a tolerant bunch when it comes to summer attire; shorts and summer dresses are fine. However the 'no flip flops' and 'no socks with sandals' rules are strictly enforced."
If you enjoyed this article, you can subscribe for free to our twice weekly event and subscriber alerts.
Currently, every new subscriber will receive three of our favourite reports about the public relations sector.