How the public reacted to the Costa Concordia event through social media
The world has been taken aback by the news of the Costa Concordia cruise liner running aground just off the coast of Italy. Clearly this is a tragic event with a serious loss of life.
From a PR perspective, this whole episode has been dealt with poorly. With this in mind, we asked Precise if they could do some research on the themes of social media activity in response to the incident.
If you haven't heard the audio of Captain Schettino being ordered back on board of the Concordia by the Italian coast guard , listen to the video below:
Before Captain Schettino hit the headlines, the majority of comments found online were focussed on shock, sympathy and sharing the news: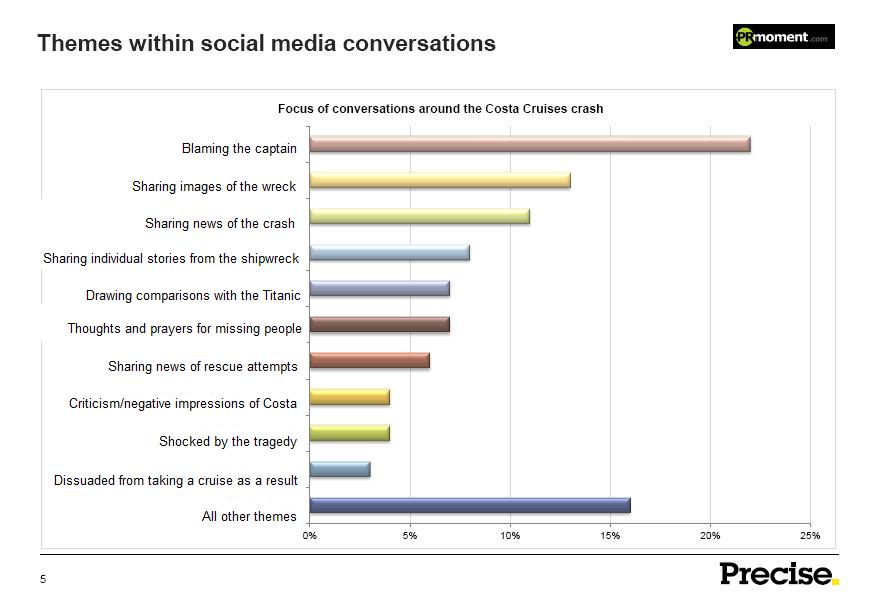 Source: Precise, Costa Concordia grounding: Analysis of social media conversations
Other popular messages, as seen on the graph above, contained criticism of the Costa company and statements from people claiming they were going to rethink their plans to take a cruise in the future.
Methodology
Precise identified all relevant social media conversations around the tragedy from the moment the ship crashed to 12pm on 19 January using the following search terms: ("Costa Concordia" OR "Costa Cruises" OR costaconcordia OR "Francesco Schettino" OR "Costa Cruise" OR (cruise AND crashed) OR (cruise AND shipwreck) OR (cruise AND shipwrecked) OR (cruise AND crash) OR (costa AND aground) OR (costa AND grounding)).
Precise's Brand Insight team analysed the output of a range of search and social media tools including Autonomy and Crimson Hexagon in order to help categorise the content into themes and identify insights within social media conversations.
If you enjoyed this article, you can subscribe for free to our twice weekly event and subscriber alerts.
Currently, every new subscriber will receive three of our favourite reports about the public relations sector.