The Golden Hedgehog PR Awards 2012 celebrates its first year success
The first year of The Golden Hedgehog PR Awards was a great success! With over 300 entrants and 400 attendees to our awards evenings, we certainly started with a bang.
Thank you to everyone who entered and attended either of our ceremonies in Manchester and Birmingham. We hope you had a fantastic time and enjoyed celebrating PR success.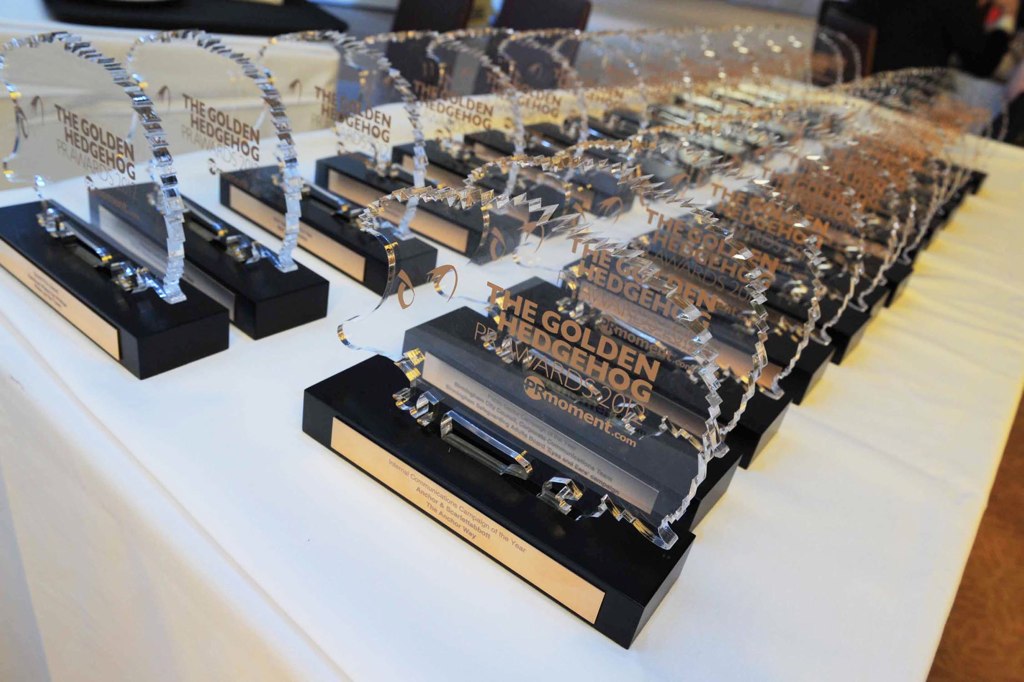 Below is a compiled list of this year's PR winners:
The North, Northern Ireland and Scotland Shortlist
Midlands, Wales and The South Shortlist
Crisis Management Campaign of the Year

First TransPennine Express - Winning the communication battle and keeping customers moving

Eulogy! / DMA - Why Hate Junk Mail?

Social Media Campaign of the Year
Northumberland County Council - Northumberland gets social
1000heads - F-Secure: Are you Smarter Than John?
Integrated Communications Campaign of the Year
NHS Trafford - Smile! Improving NHS dental access in Trafford
Mintel / VYou.com - British Lifestyles 2011

Event of the Year

The Co-operative Insurance - Driving down the cost of insurance for young people

Phipps - Rioja presents 'Tapas Fantasticas'
Best Use of Research
Aviva Life & Pensions and The Wriglesworth Consultancy - Aviva Family Report Series – Recognising the Difference!

HROC - Dirty Cash

Highly Commended: Dynamo PR / AQA 63336 - Owning the Apple London Queue

Consumer PR Campaign of the Year
JAMpr - Going the extra mile for my Travel Cash
Ketchum Pleon for Philips - Wake up the Town
B2B Campaign of the Year
IAS b2b Marketing - Green Fleet – Lex Autolease
Willoughby Public Relations - FOG Down The Drain - BSS Industrial
Financial PR Campaign of the Year
The Co-operative Bank - Come bank with us!
Santander UK plc - Securing the RBS assets for Santander
Healthcare / Pharma Campaign of the Year (South)
Virgo Consumer HEALTH / Seven Seas - Seven Seas Joint Health of the Nation
Public Affairs Campaign of the Year
RMS - SOS Save Our Seafarers – A global effort to end piracy
Gough Bailey Wright - Sainsbury's Regenerating Leek
Best use of Evaluation (North)
Hatch Communications - Rabbit Awareness Week
Public Sector Campaign of the Year
NHS Trafford - Smile! Improving NHS dental access in Trafford
Birmingham City Council, Corporate Communications Team - Birmingham Safeguarding Adults Board 'Eyes and Ears' campaign
Internal Communications Campaign of the Year
Anchor - The Anchor Way
Anchor - The Anchor Way
Not for Profit Campaign of the Year
Acceleris Marketing Comunications - Celebrations of the Sea – The Worlds First Photography Exhibition Underwater
Frank PR / Beatbullying - The Big March (TBM)
Media Relations Campaign of the Year

IAS b2b Marketing - Waste Not, Want Not - Recyclebank

Highly Commended: Bell Pottinger North - Jip, The Dart Playing Dog Scores for Thwaites

Fido PR / Dennison Greer Solicitors - Primetime for Pre-nups

Seas - Seven Seas Joint Health of the Nation

Low Budget Campaign of the Year

de Winter / Golden Square Shopping Centre - Growing Up Green at Golden Square Shopping Centre

Highly Commended: Admiral PR - APEM: Putting Science At The Forefront

If you enjoyed this article, you can subscribe for free to our twice weekly event and subscriber alerts.

Currently, every new subscriber will receive three of our favourite reports about the public relations sector.




Subscribe for FREE Today

PRmoment.com will never share your details. Privacy Policy.

Looks like you're enjoying our content. To receive more feature rich content like this in your inbox, simply enter your email address.