What is the purpose of PR today?
PR Research
2 minute read
What is the future of PR, given the proliferation of new media and the decline of print? This is a question behind the study The Purpose of PR by agency Fourth Day Public Relations. Xanthe Vaughan Williams, director at Fourth Day Public Relations, explains: "We wanted to gauge how businesses perceive and use PR alongside other marketing disciplines and what they want out of it in the foreseeable future. We created a questionnaire aimed at providing a mixture of qualitative and quantitative responses about the most highly valued PR tactics; what is quality coverage and how do businesses measure it; and the most pertinent: is PR still relevant?"
Discussing the survey, Vaughan Williams explains that clients and contacts who took part are largely from the education, financial, professional services and technology industries, plus the base was broadened by creating a list of businesses sourced through listings such as the Times Tech Track 100. "We were looking for businesses in the B2B/technology field that would be using marketing effectively (but not necessarily PR), which achieving a Tech Track position suggests they are."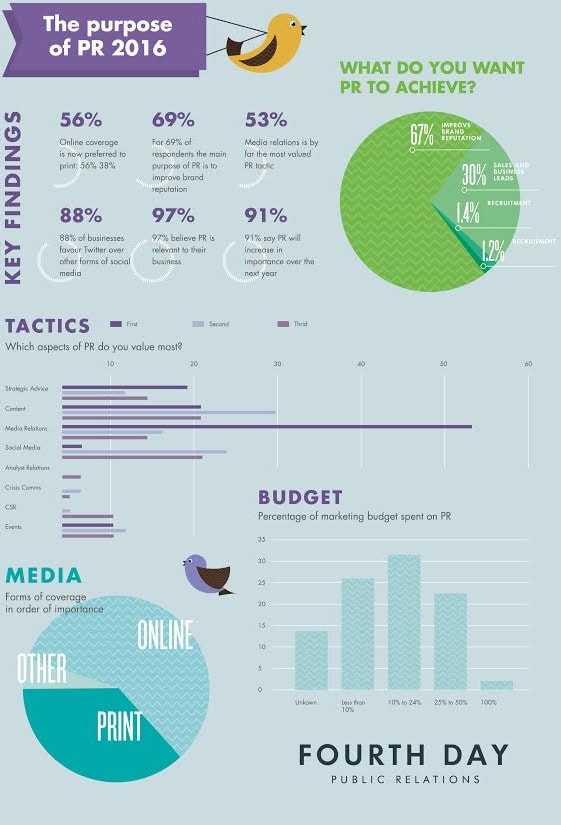 PR/marketing boundaries are blurring
The good news is nearly all businesses surveyed (97%) state that PR is still relevant and that they (91%) expect it to grow further in importance to them. Vaughan Williams describes how businesses perceive PR: "Media relations was cited as the most valued tactic. However, the boundaries between PR and other marketing disciplines are increasingly blurred and many respondents struggled to state what proportion of their marketing budget is spent on PR.
Respondents explained that it is becoming difficult to define precisely what should be categorised as PR. Social media, SEO, and the creation and publication of different types of content, are particular areas of overlap between disciplines.
Brand reputation is most important role of PR
"PR is a constantly evolving discipline and I believe we have seen more changes in recent years than ever before. It has not, however changed beyond recognition: brand awareness was ranked as the number one objective for PR for almost 70% of respondents. The key PR skills used in media relations and brand awareness are ideally suited to newer forms of marketing and the research revealed that more businesses are starting to recognise the importance media relations in SEO."
Integration is key
Vaughan Williams says that the challenge businesses have is to bring together all their external PR and marketing specialists in a cohesive and coherent way: "Few respondents were really yet aware of PR as a fundamental element to be integrated in their SEO strategy. Indeed, many also admitted their business's social media activity is not included in strategic marketing campaigns. However, there seems to be a dawning realisation that campaigns are more effective when tied together."
Background
You can access the report The Purpose of PR here