What are the challenges facing in-house PR teams?
Life is pretty good if you work in-house in PR. Budgets are looking healthy and salaries aren't bad either, especially if you work in a senior role. This is according to the latest PRCA in-house Benchmarking Report which quizzed senior communications directors in the private, public and third sectors.
In-house communicators do face some challenges – the two most commonly mentioned concerns are the lack of understanding of the PR/comms function (53%) and integrating communications into other departments' priorities (51%).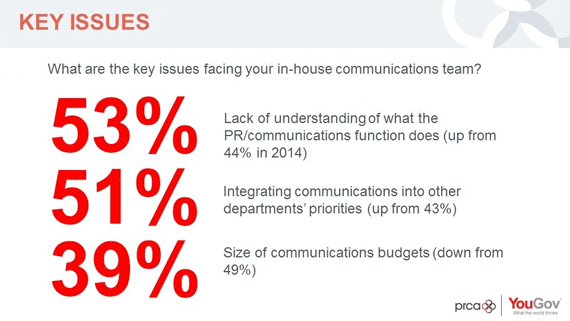 But worries over money are on the decline. Concern about the size of budgets has dropped, at 39%, down from 49%. Over the past year, budgets of between £1m and £5m have risen from 21% to 30%, whilst there has been a drop of 13 percentage points to 10% in budgets under £50,000. However, budgets are largely expected to remain static this year: 60% expect budgets to stay the same; 24% expect them to decrease; 16% expect them to increase.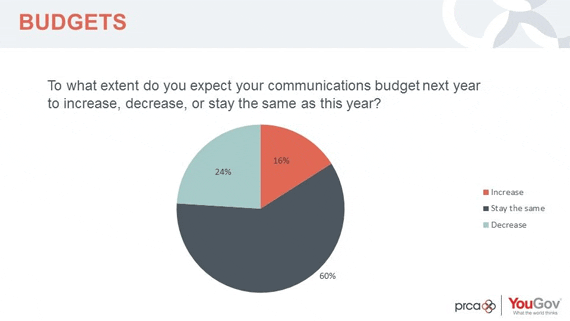 Discussing why there is more money being spent on PR these days, Tony Langham, chief executive of PR firm Lansons, says there are two reasons: "Transparency is good corporate behaviour and transparency involves increased communication; and there has been a massive increase in the number of ways to communicate (social media, use of film, etc) with no reduction in the number of channels (via print media, post, etc)."

In terms of earnings, salaries are looking fairly healthy too, with around half of in-house directors earning between £75,000 and £120,000 (49%), plus 16% enjoy bonuses of over £15,000.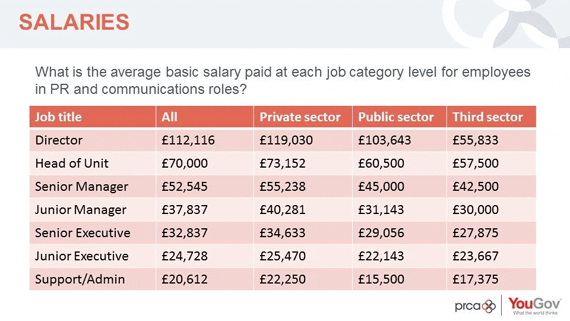 However, it is not all good news for those working in-house, especially for those at lower levels and working in the public sector. Langham explains: "It's a mixed picture. At companies in crucial situations, such as times of change, crisis and IPO, salaries are much higher. And at the senior level, genuine reputation management directors are in demand. However, across the board, British business has been trying to increase efficiency and productivity and salaries are fairly static. In the public sector, the pressure to reduce costs is acute and is being felt in comms salaries."

Methodology
This is the fourth year of the In-house Benchmarking Report, developed in partnership between the PRCA and research company YouGov. The survey was completed by senior communications directors from the private sector (60%), public sector (22%) and third sector (18%). 161 organisations responded and the survey was in the field between 20 April and 1 June 2015.
If you enjoyed this article, you can subscribe for free to our twice weekly event and subscriber alerts.
Currently, every new subscriber will receive three of our favourite reports about the public relations sector.