The value of reputation revealed
How much, really, does a company's reputation add to it's profitability? Well according to a recent study by intangible asset specialists Reputation Dividend, corporate reputation accounts for nearly £620bn of shareholder value across the FTSE 350, but its impact is down from last year.
Three key findings of how reputation adds to the bottom line to British businesses are that:
Reputation is worth £620bn to UK PLC as of January 2015.
Strong corporate reputations add £1 in every £2 of shareholder value; bad ones destroy £1 of value in £7.
FTSE 350 companies could be losing £160m of their value by not fully addressing their reputations.
Discussing why businesses are failing to capitalise on their reputations as much as they did last year, Simon Cole, founder of Reputation Dividend says: "Having achieved considerable success in maintaining confidence during the global economic downturn through a growing focus on reputations, there are signs that some companies have taken their eyes off the ball as 'recovery' sets in. As a result, the FTSE350 as a whole slipped, and ended the year 2 per cent below where it had started with a loss of £55bn of shareholder value."
Consumer goods company Unilever and alcoholic beverages company Diageo top the league of the most economically powerful corporate reputations for the second year running, but their leadership is being challenged by a number of rising stars. Retailer Next rose 21 places to take the number three position, while consumer-goods company RB (Reckitt Benckiser) jumped 19 places to number seven. The study also places bank HSBC in the top ten with its strong global operations and ability to shrug off bad news as 'industry issues'. Cole adds, " it remains to be seen just how much HSBC's undoubted success in 2014 will be set back by the scandal surrounding the company's Swiss operation, governance and customer's tax management practices."
The top ten most potent corporate reputations in the UK – January 2015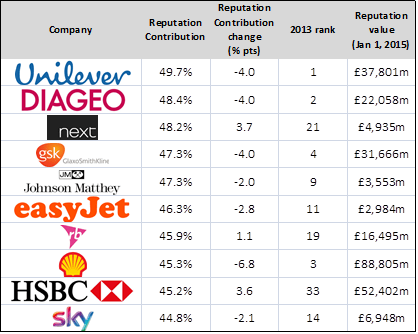 Looking in more detail at Unilever and Diageo which lead the table, Sandra Macleod, CEO of Reputation Dividend, points out that they are only just holding on to their top spots: "They held on to the lead established in 2013, but their previously blue-chip reputations undoubtedly lost some impact as their momentum stalled. Although keeping the number one position, Unilever's Reputation Contribution slipped 4 per cent points and is now below 50 per cent for the first time in five years. The company's strategic ambitions appear to be both understood and appreciated by commentators, but there were growing signs of pressure for reassurance. 2014 was arguably the company's 'weakest' year for a decade and the combination of slow US recovery, poor European outlook and strong sterling is doing little to reward Paul Polman's increased emphasis on personal care and emerging markets. As a result, perceptions of the company's leadership prowess lost a little of its shine as too did its much championed community and environmental credentials."
"Diageo on the other hand is still looking to affirm the transition from close to 13 years of Paul Walsh to the new regime under Ivan Menezes. A combination of changes in the senior personnel, difficult market conditions,slow sales hampered by a strong pound and even talk of a merger (with SABMiller) has understandably created some disruption in the company's progress and left some commentators suggesting that for now at least, 'the jury is still out' with the result that 4 per cent points was shaved off the Reputation Contribution."
Turning to a company that can be particularly proud of its performance, Macleod says: "The economic impact of Next Plc's corporate reputation goes from strength to strength as the company forges ahead and ticks many of the boxes under the guidance of CEO Simon Wolfson. Strong sales, offline as well as online, based on what the company declared as the 'bravery' to embrace new fashion contributed to what one analyst described as a 'blowout' performance. Wolfson's tendency for under-promise and over-delivery allied with an 'unusual degree' of openness with regards to the company's financial performance produced an uplift in the company's Reputation Contribution that took it 18 places up the ranking to a position only just below Diageo."
Although not in the top ten, one company that Macleod says has delivered a particularly sterling performance in terms of its reputation in 2014 is AstraZeneca: "While the main story was without question its robust and ultimately successful defence of the bid from American giant Pfizer, a number of other factors conspired to confirm the company in the most favourable light for some time. CEO Pascal Soriot has raised investor hopes as the turnaround progresses and, while aspects such as innovation are yet to be as well regarded as might be hoped, there were notable improvements in revenues and the all important pipeline. As a result the company's reputation asset recovered to the point where the confidence it is supporting registered a 26 per cent point rise to 40 per cent to become the 13th highest of all the companies tracked in 2014."
Background
Reputation Dividend is an index of the financial value of corporate reputation as measured as a percentage of market capitalisation. This is the eighth annual study and is based on analysis of more than 200 of the country's largest public companies.
For a copy of the study go to http://reputationdividend.com/files/5014/2480/0950/Summary_of_2015_UK_Reputation_Dividend_Report.pdf
If you enjoyed this article, you can subscribe for free to our twice weekly event and subscriber alerts.
Currently, every new subscriber will receive three of our favourite reports about the public relations sector.