The high street chains of Top Shop and Primark outshine Gucci and Prada when it comes to media mentions
Topshop is succeeding in getting itself mentioned in all the right circles and for all the right reasons. According to latest research commissioned by PRmoment, Topshop has used London Fashion Week well to boost its profile, which has helped it beat both budget brand Primark, and luxury brands Gucci and Prada, when it comes to how often it was mentioned online in the last three months. Comparing these four brands' mentions, Topshop appeared in 33 per cent of stories, Primark in 29 per cent, Prada in 22 per cent and Gucci in 16 per cent.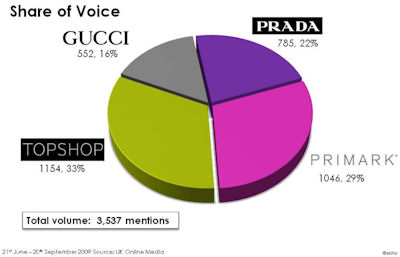 Research supplied by Echo Sonar
What is particularly impressive about Topshop's online media profile, is that it is so multi-dimensional. Whereas other brands tend to be associated with one main subject area, Topshop gets mentioned for reasons ranging from its international success to its vintage collections (its vintage clothing generated the highest number of stories). Not surprisingly, most of Primark's mentions concern how much its clothing costs (or doesn't), which is again the most common topic for Gucci, but for contrasting reasons. Expense is also a key subject for Prada stories, although the focus is more on how much people spend on Prada, rather than how much it retails for.

To find out how all four brands are succeeding in marketing themselves to their target audience, PRmoment turned to a fashion expert for her opinion. Karen Grace spends a great deal of time analysing the image of brands in her role as personal shopper and image consultant at London-based image consultancy Frumpy to Funky. Turning her attention first to Primark, Grace says that this appeals to the fashionista who "likes quantity not quality", adding that this brand is for someone who "likes wearing something new every time they go out at night and also wants to look trendy during the day but doesn't want to spend a fortune." She sums up that Primark delivers popular high trends at low prices – but points out that it is not the brand for the eco-friendly.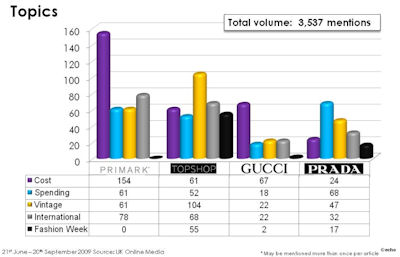 Research supplied by Echo Sonar
Discussing Topshop, Grace says this, as our research highlights, is a good all-rounder, adding that it offers: "an eclectic mix of trends, great store layout, cafe on site and also has a few ethical fashion labels. Although its target market is the young girl about town, some of the clothes could appeal to the older woman – it's all in how you put articles of clothing together."

Turning her attention to the higher end of the fashion spectrum, Grace believes that most fashion-conscious shoppers would like to own some article from Prada and Gucci, even if it is only a key ring. She adds, however, that unless a consumer earns a fortune, or can spend most of their wages on clothes, fashion clothing from these brands is probably not for them. This highlights that the audience for Prada and Gucci is far more exclusive, and why it is appropriate that their media profiles are less mainstream.

Looking at these fashion brands' online marketing, Kevin Gibbons, director of search at search engine marketing agency SEOptimise, has been particularly interested in how Primark is succeeding and failing with its online strategy. He says that while the look and feel of Primark's website is appealing, it's missing a trick by not interacting with its customers. He also believes that although Primark has done an excellent job in building a large following on Facebook, it could use its own website better to engage with its female audience. He explains: "For example, blogging and adding social media on the site would increase the brand's appeal and attract traffic. An online community on the site would enable customers to network and feed back their ideas or comments to the company." Gibbons also suggests that Primark would do well to publish an online catalogue and offer the option to buy gift vouchers, as this would give people more reasons to visit the site regularly.
Methodology

PRmoment asked Echo Sonar to compare all UK online media coverage of Gucci, Prada, Primark and Topshop from 21 June to 20 September. Metrics included share of voice and volume of media topics.


If you enjoyed this article, you can subscribe for free to our twice weekly event and subscriber alerts.
Currently, every new subscriber will receive three of our favourite reports about the public relations sector.