Tennis and cricket remain the media darlings in June
PR Research
4 minute read
As the sun shines on Wimbledon and the English women's cricket team celebrate their World Twenty20 victory, PRmoment analyses media support of these summer sports.
British tennis fans live for these two weeks each year, as they avidly follow the matches at Wimbledon and pray that sunny weather reigns. It has also been an exciting time for women's cricket, with the English team beating New Zealand comfortably to win the World Twenty20 tournament on 21 June. Tennis and cricket offer plenty of opportunities for PR activities, from corporate entertaining (although this is being tempered somewhat by the recession) to sponsorship support, so the more the media help raise the profile of these sports, the better.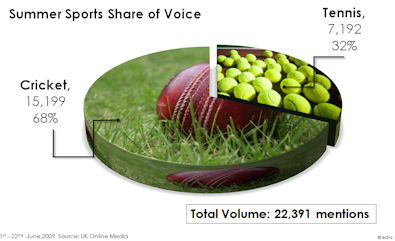 Research by Echo Sonar
Looking at online media coverage in June of tennis and cricket in the UK, shows that cricket received plenty of coverage, peaking in mid-June when England beat India in the World Twenty20 at Lord's on 14 June. The sport then got another boost in the media later in the month, as the women's team started heading to victory. Now that Wimbledon is on, tennis news is taking over, and PR people involved with both tennis and cricket should be pleased with the amount of coverage these sports have been generating this month.
Imogen Gaunt, media relations officer at the England and Wales Cricket Board (ECB), is delighted with the exposure the women's team is now getting in the media, as after the team won the World Twenty20, every single newspaper is full of the victory, including making the front cover of the Daily Telegraph. Getting the women into the media is obviously made easier by the fact that they are so successful, but the ECB has also been running a comprehensive media campaign that has helped them gain increasing attention over the last four years, with the help of PR agency Threepipe. This has included the players being featured in Vogue.com earlier this year and having the team's formal wardrobe designed by fashion designer Paul Costelloe. Gaunt says: "People now know the team and are getting to know the players as they see them in the sports (and fashion) pages." Gaunt adds that a key part of the media strategy has been to use regional media, "where local girls are playing. We have found this has really worked in helping them to become recognised."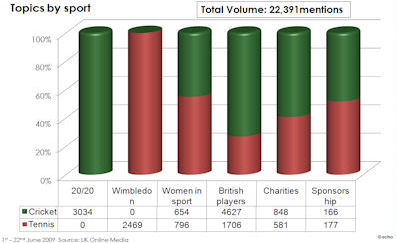 Research by Echo Sonar
With tennis, the research shows that the subjects that generate most stories are Wimbledon and British players, but like cricket, the success of women in the sport is also gaining wide coverage. Andrew Walker, vice president of global marketing and communications of Sony Ericsson Women's Tennis Association (WTA) Tour, says that women's professional tennis boasts "some of the most globally popular and marketable athletes in the world, including such household names as Venus Williams, Maria Sharapova, Serena Williams and Ana Ivanovic." Walker believes that the benefit of focusing on these women is that they are famous not just for being athletes, but are equally inspiring for their "off-court personalities, glamour and interests." He adds, "Both the public and media enjoy this duality of women's tennis, and this duality – performance and glamour/personality – is something that the Tour does seek to leverage through marketing and public relations."
It is interesting to note that the focus on nationality is much more key in cricket (most stories are about the England team) whereas in tennis, the main subject is Wimbledon. Charities also get a large mention for both sports. One example of a cricket charity endeavour is Shane Warne leading his Rajasthan Royals side in a Twenty20 charity match against Middlesex at Lord's (mentioned on the BBC on 22 June). An example of a tennis charity story is in the Daily Record on 16 June, when it writes: "we have teamed up with new charity Malaria No More UK to give away a tennis ball signed by top British tennis star Andy Murray!".
Agencies also raise money for charity using tennis and cricket themes. For instance Haygarth PR organises a tennis event each year for its elected charity. This involves staff dressing up as their favourite tennis star of the past, and money is collected from the public in appreciation of the outfits. Summer sports are not just fun and games, they offer potential to raise the profile of clients and charities, as well as the sports people involved. You may not be able to beat sports people at their own game, but there are many chances to join with them.
Methodology

Echo Sonar analysed UK online media coverage of cricket and tennis from 1 June to 22 June 2009. Metrics included share of voice, volume trend and volume of media topics.