Social media is yesterday's news, today's PROs are focused on mobile
PR Research
4 minute read
Across Europe, today's key issue for comms professionals is mobile communications. According to the European Communication Monitor 2014, the largest transnational survey on strategic communication worldwide, mobile is the issue that is most taxing PROs, while social media strategies are less of a concern.
Mobile communication in different types of organisations
Applications already implemented and planned for 2014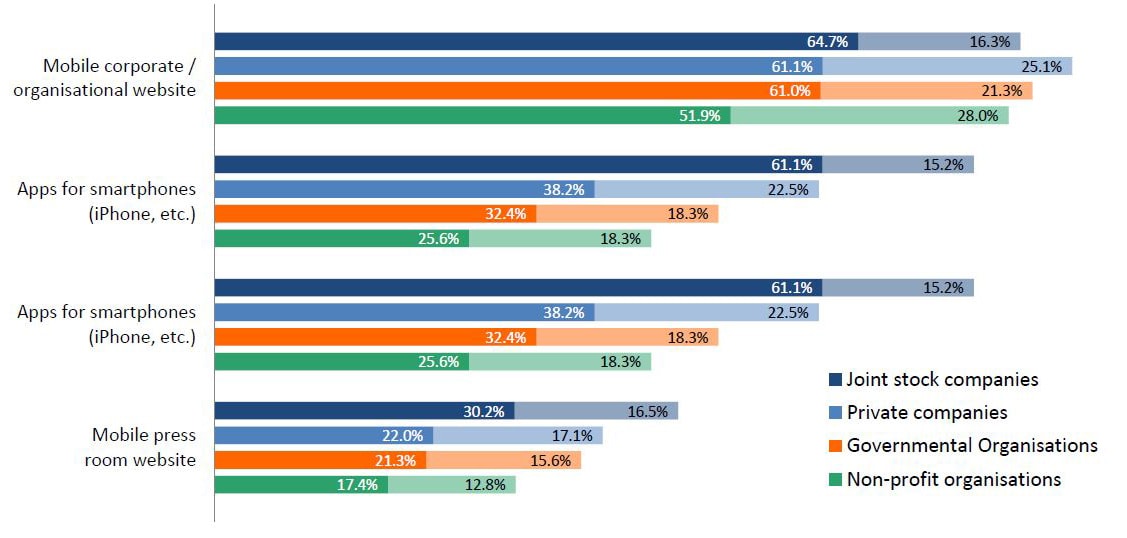 Joachim Klewes, a senior partner at PR firm Ketchum Pleon (in Germany), that led the study, explains what has precipitated today's PR obsession with mobile comms: "In the last few years smartphones have come of age. Internet access is faster and there are apps for just about everything. These factors have combined to drive huge levels of consumer adoption. Indeed, now a brand's online content is more likely to be accessed via a smartphone than a laptop or PC. With the addition of wearable devices, smart televisions, tablets, consoles and in-car devices – the way people access the internet has altered for good."

"But there is also a second reason. As using technology on the fly has become a ubiquitous part of everyday life, a whole new front has opened up for branding, reputation and customer service. And by the way, this is relevant all across the globe."
Types of company behaviour on social media expected by stakeholders, as reported by communicators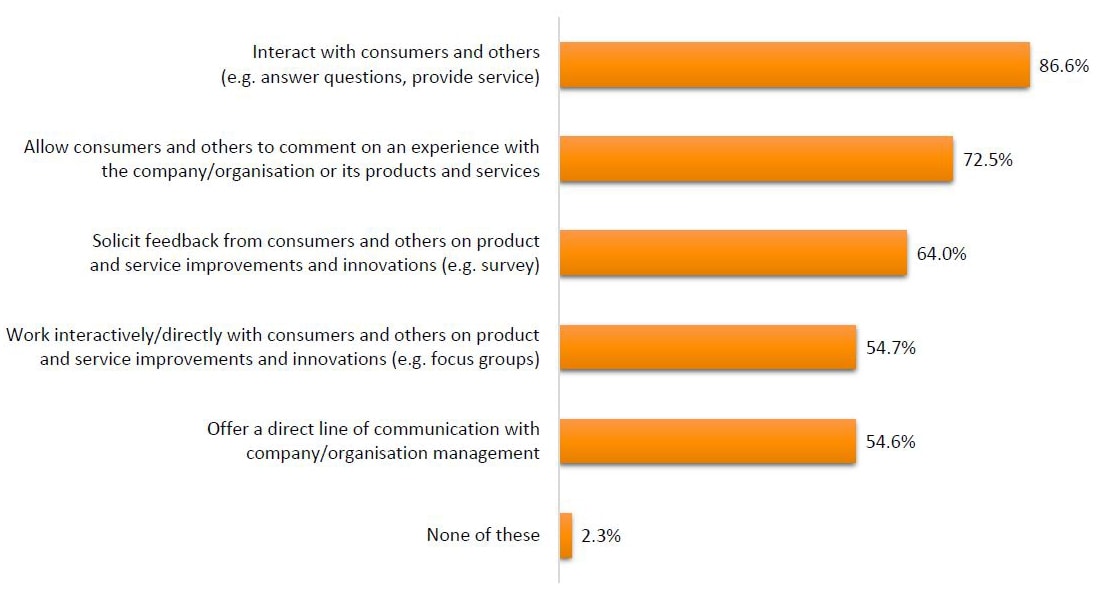 "These days we have smartphone video content shown in news reports, tweets shaping public opinion, consumers shopping on their phones as they watch TV, people comparing prices before they make purchases in shops, and users searching for nearby restaurant reviews in real-time. Communicators can now reach their audiences on many more occasions, in entirely new ways. This means lots more opportunities to tell your brand story, deliver messages, to interact, and to engage."
"But it also means bigger risks, as in the case of brands that come under attack. Critical issues spread much faster and reach their targets anywhere, anytime."

Klewes says that in order to meet the explosion of mobile, PROs need to do two things:

"First, it is important to learn how to transform content into formats that suit mobile devices. In basic terms, this means thinking about the content you have and how it might be accessed on the fly, with a non-desktop device. For PR practitioners this may be quite a challenge. You need more simplification and more focus. You also need to think about how images and video can tell stories in rich and engaging ways."

"Second, you need to think about how the content you have might be used on the fly. How can brands and firms support their stakeholders, staff and customers through useful, engaging content and functionality to help them meet their goals? This is much more promising because it offers the opportunity for firms to move from traditional business models to a more social way of doing business."

By focusing so much on mobile comms, some may worry that traditional PR skills may be lost, but Klewes says these fears are misplaced, as establishing and maintaining relationships with audiences is as important as ever, and as he points out, this is "the bedrock of PR." He adds, "Our business is no longer mainly about great PR ideas that sell to journalists. It is about the science of understanding specific audience behaviours, extracting the most powerful insights, and generating ideas that will work across paid, earned, shared and owned media. We need to be able to supply the right content to the right people with the right functionality in the right place, at the perfect moment."

Discussing why today's focus on mobile has usurped social media as the main obsession of PROs, Klews says: "For several years social media was the number one issue for European communicators. The shock of having to deal with consumers, employees and adversaries in real-time meant there was much to learn. But it's now about 10 years since the birth of Facebook, YouTube and Twitter. Along the way they have become natural, commonly used tools and we have a road map of how communication professionals can use them in their daily work."
Background
The European Communication Monitor 2014 interviewed 2,777 participants in 42 countries. It is published by the European Association of Communication Directors and the European Public Relations Education and Research Association.
If you enjoyed this article, you can subscribe for free to our twice weekly event and subscriber alerts.
Currently, every new subscriber will receive three of our favourite reports about the public relations sector and will be automatically entered into a monthly prize draw to win a PRmoment t-shirt!