Social media habits of millennials
Money saving accounts are the most popular sites with millennials (those aged between 18-24 years old), closely followed by holiday/travel and political accounts. These recent findings into the social media habits of millenials come from affiliate marketing network affilinet.
Here are the top ten types of social media sites with millennials:
Money Saving – 25%*
Holiday/Travel – 20%
Political Interest – 19%
Health & Wellbeing – 17%
Food & Beverage – 17%
Pets/Animal – 16%
Beauty – 8%
Fashion – 7%
Property – 6%
Interior – 5%
*percentage of 18-24 year old respondents that said they were likely to follow this type of account on social media.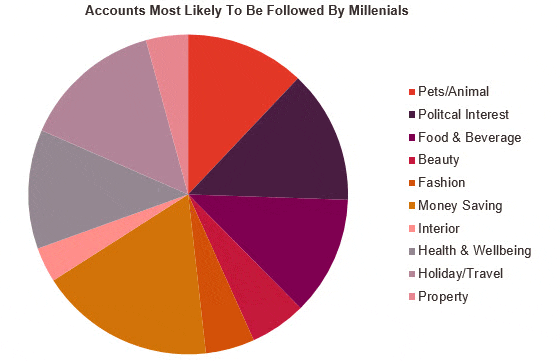 Discussing the social media habits of millenials, Sophie Parry-Billings, marketing manager at affilinet, points out that the behaviour of millennials is unlike any other age group: "These are people who have grown up with technology integrated into their lives from childhood right through to their teens and twenties. Their experiences have likely been documented on social media from a very early age, and they have been connected to 'the grid' throughout their formative years in a way that others may find hard to understand. As a result, they are a switched-on, engaged and yet very critical consumer of technology and all that it brings. They are consumers that can barely imagine life without Instagram, let alone Facebook or Twitter; they fully expect their every desire to be available at their fingertips and, increasingly, that is what they have."
Millennials are avid online purchasers which means sites are keen to get their custom. As Parry-Billings puts it: "Brands are clamouring for their attention; and smart brands are working their hardest to understand more about this potentially valuable demographic. How to hold their attention is one of the only secrets more sought after than how to get it in the first place, when it comes to both publisher platforms and brands looking to interact with the demographic."
So if you are after the attention, and ultimately the custom and loyalty, of millennials, you need to understand them. Parry-Billings concludes: "Too many brands make assumptions based on stereotypes instead of working on real, genuine market research. Brands could be marketing themselves in entirely the wrong way, and certainly using entirely the wrong platforms and channels. Understanding the audience is the key to engaging with them and, when it comes to millennials, there's less patience there for second chances."
Background
affilinet commissioned research to investigate Britons' online social media habits. 2,004 Britons were polled as part of the research and were split into a range of age groups: 18-24, 25-34, 35-44, 45-54 and 55+ years old.
If you enjoyed this article, you can subscribe for free to our twice weekly event and subscriber alerts.
Currently, every new subscriber will receive three of our favourite reports about the public relations sector.