Senior level salaries fall in PR
PR Research
3 minute read
The PR Census 2016 from the PRCA shows that although the UK PR industry is worth a healthy £12.9bn (over £3bn more than in 2013) and that it now has around 83,000 employees (up from 62,000 in 2013), salaries at senior levels are dropping. Francis Ingham, director general at the PRCA, naturally likes to focus on the positive and describes the PR industry as a "modern-day success story". He adds: "At a time when any small sign of growth is impressive, PR is growing by 10% every year. Why? Because we are a strong, important sector that provides huge value to every kind of organisation."
But if things are going so well for the industry, then why are senior salaries getting smaller? Ingham points out that there have been general pay decreases in many industries, and pay at junior levels in PR is rising: "Looking at the salary figures, the reason for the drop in average salary levels is that senior level pay has dropped significantly across the board. However, mid-level and junior pay has risen slightly. It represents an important shift towards rewarding the hard-working people keeping the industry moving every day."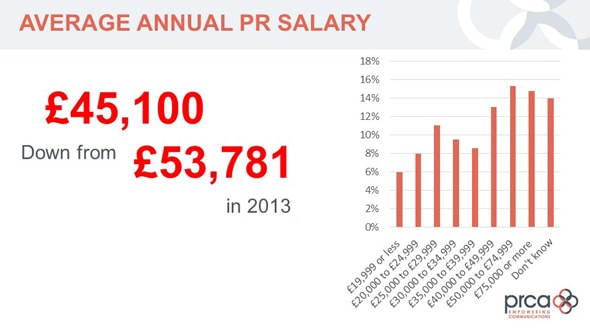 It still seems surprising that senior pay has dropped so dramatically, and the PRCA's theory it is due to consolidation, or through PROs launching new agencies. Ingham says: "Why are senior salaries falling? I believe that it is a result of two things: on the one hand, consolidation of the major networked agencies; and on the other, CEOs and board members having the confidence to set up their own outfits, taking a considerable pay cut in doing so. It is a hugely confident time for entrepreneurship in the PR industry."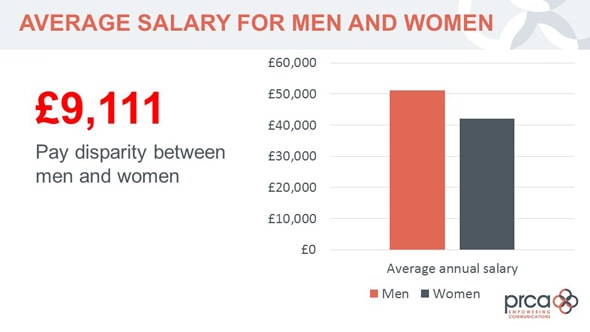 Another surprising statistic is that an agency CEO earns slightly less than a board director, with the average salary for a chairman being just over £67,000 whilst associate directors earn nearly £68,000, but this could be because the research includes CEOs from one-man agencies and small agencies, whereas board directors tend to be working at larger firms where salaries are more generous.
Looking at good news – pay rises – two-thirds of PR people have recently enjoyed pay rises, which suggests the increases are mainly being given to PROs at junior and mid-level.
But back to bad news. Women are still earning less than their male counterparts, on average of £9,111 less. The discrepancy in men and women's salaries has also been shown by the CIPR's research.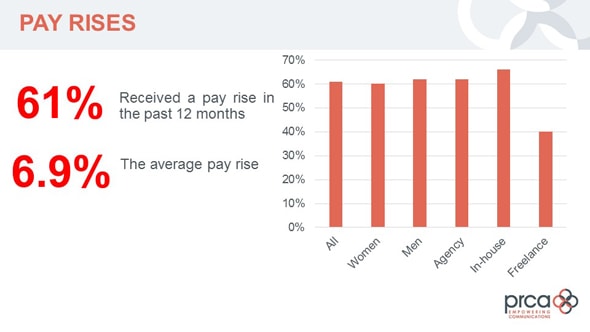 Ingham says this is of great concern, but hopes to help to address the issue: "The PRCA is committed to turning this situation around, and to that end we will soon be providing guidance to the industry on reporting gender pay levels, and we will also be publishing our own gender pay levels as an example to the industry. With transparency comes fairness and equality."
Methodology
The online survey was generated by research firm YouGov and generated 1,874 responses. Respondents had to fulfil the following criteria: work in a communications, PR or corporate relations remit. The fieldwork was undertaken between 17 February and 26 April 2016.