PR is becoming a top career choice, says latest research
PR Research
4 minute read
PR is rising through the ranks to become one of the most in-demand job areas by 2022. Recent research by the IPPR, commissioned by independent education charity, the Edge Foundation, has revealed the changing landscape of the future jobs market.

The next eight years will see the economy being influenced by two main factors; a retiring workforce and reinvigorated economic growth. The most in-demand job area will be within the health and care professions – no surprise given the ageing population. And, interestingly within the wider occupational grouping of 'business, media and public service professionals' (number four in the list), is our humble PR industry.

The top 10 occupations of the future (2022):
1. Caring and personal service occupations (e.g., care workers and dental nurses)
2. Health and social care associate professionals (e.g., social workers and probation officers)
3. Health professionals (e.g., medical practitioners, psychologists and pharmacists)
4. Business, media and public service professionals (e.g., journalists and public relations professionals)
5. Corporate managers and directors (e.g., chief executives and production managers/directors in manufacturing)
6. Culture, media and sports occupations (e.g., artists, dancers and photographers)
7. Leisure, travel and related personal service occupations (e.g., sports and leisure assistants and hairdressers)
8. Other managers and proprietors (e.g., property/housing/estate managers and waste disposal/environmental services managers)
9. Customer service occupations (e.g., sales/retail assistants and telephone salespersons);
10. Business and public service associate professionals (e.g., air traffic controllers and insurance underwriters)
The research also highlighted the burgeoning skills gap in the current occupational landscape. Over the past 60 years, higher education has been the order of the day. Three A-levels and a degree had been touted as the way to drive economic growth and mobility and thus a polarised "hourglass economy", with many highly skilled jobs at the top and low-skilled jobs at the bottom, but relatively few mid-level jobs in between, has emerged. (Figure 1).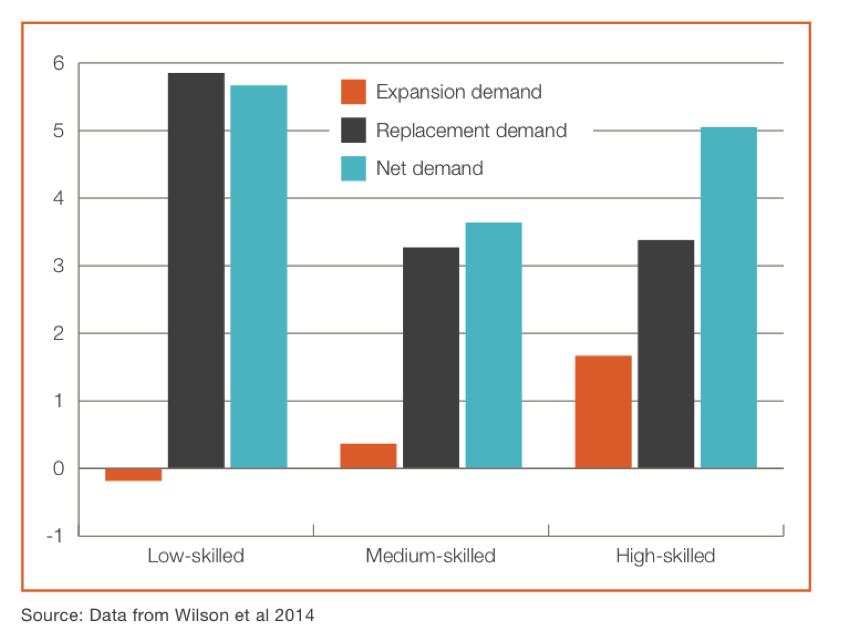 In 2022, with the occupations of the future, we will see substantial growth in the middle and lower end of the occupational ladder as well as at the top.

An interesting point to highlight from the research is the fact that 9 of the top 10 most in demand career areas by 2022 will be achievable through vocational education. The UK's keen focus on higher education and a graduate economy has seen further education somewhat neglected. However, this report makes clear the pivotal role practical, technical and vocational learning will come to play in the UK economy over the next eight years.

The research has revealed that the fourth-most in-demand area of employment in 2022 will be business, media and public service professionals, including journalists and public relations professionals. The significant rise of communications and PR roles within the UK economy will be the result of our ongoing sociocultural shift.

Recessions are said to breed entrepreneurs, as job losses and circumstances change, people have the freedom to chase their dreams. Effective communications, through PR and social media, can enable businesses to get the edge and stand out in an increasingly crowded market.

We are a nation of people who are being continually subjected to marketing by brands, hundreds of times per day, from advertising slogans and brand partnerships, to social media campaigns.

Consumers are becoming increasingly savvy about the brands they love and connect with and as a result, effective communications has never been so important. This is why the growth of PR, comms and marketing is set to rise over the next 8 years. Luckily, flexibility is ingrained in PR. Our role is to adapt and evolve alongside our consumers and ensure brands continue to meet their needs. By doing this our industry will remain integral to the UK economy for years to come.

Background
The Edge Foundation commissioned the Institute of Public Policy Research to undertake this research. It comprised an in-depth literature review and new projections based on trends and analysis.

Written by Mandy Sharp, Founder of PR Agency, Tin Man
If you enjoyed this article, you can subscribe for free to our twice weekly event and subscriber alerts.
Currently, every new subscriber will receive three of our favourite reports about the public relations sector.