Nearly all European PR professionals are open to new job opportunities
A recent survey, commissioned by specialist corporate communications and marketing recruiter VMA Group, reveals that 95% of communications professionals are open to new job opportunities.



Looking more closely at this 95%, almost half (43%) of respondents are actively looking for a step up the career ladder, while a further 52% are "passive candidates" – professionals who are open to switching jobs if the right opportunity presents itself. This highlights a phenomenon whereby skilled, ambitious communications professionals, thanks to an increasingly candidate-driven market, are almost always open to being approached about roles.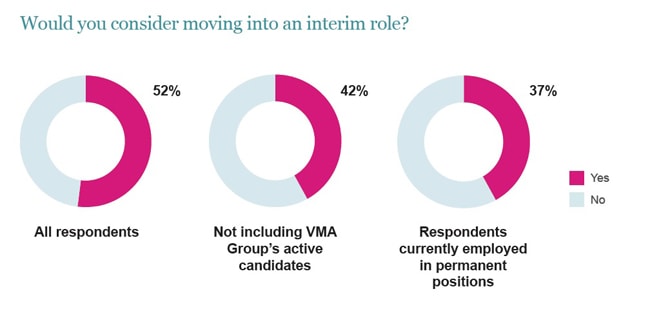 The research also reveals that more than half (52%) of communications professionals surveyed would consider leaving their permanent jobs for an interim role.
The most popular three reasons in support of interim roles are: taking control of work/life balance; improving remuneration value; and building up a portfolio of skills in a shorter time frame. Could this shift in industry value towards contracting roles signal a significant restructuring of the sector itself?
Willem de Ruijter, VMA Group's executive director for Europe, comments that: "We are seeing a seismic shift in the way corporate communications professionals are not only operating, but in how they are managing their own professional development and career choices, and, in parallel witnessing the dawn of much more internationally-focused recruitment, in what is now a candidate-driven market. The mobility of talent within the sector is growing – and the desire for more experiences is emerging as a top feature for those seeking new roles, whether that is in their home country or further out."
Other factors for professionals looking outside their organisation for their next career move are consistent with VMA Group's 2014 results. Company culture, development potential and management style are identified as the three most important aspects to consider, with salary coming in at fifth.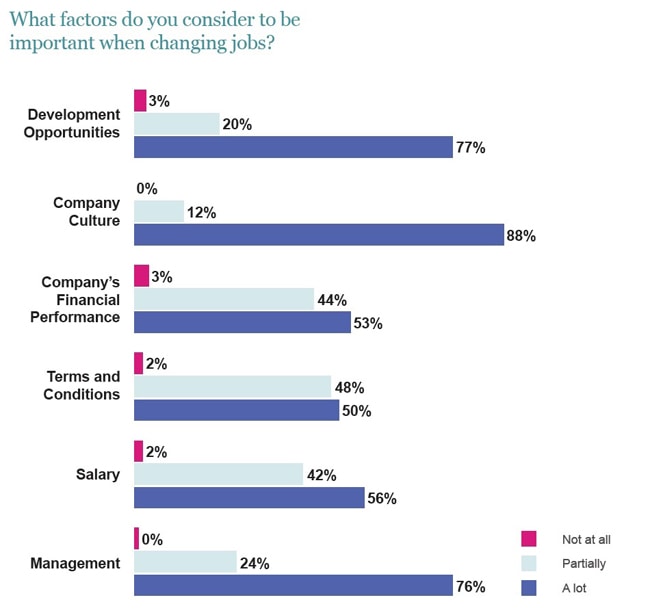 These results demonstrate that those surveyed value professional development and contentment much higher than monetary gain. However, this result jars with the previous assertion that these same participants would consider interim roles because of "improved remuneration". So why is there a disparity? According to de Ruijter, "Comms professionals are more likely to sacrifice higher pay in a permanent role as other factors including development and good company culture and benefits generally take precedence in ensuring long-term happiness. But the difference for those undertaking interim roles is that a short-term contract will not offer you career development under that organisation's roof, it is itself a tool for moving up the career ladder as it offers experience and exposure to diverse situations. It is also not as important to integrate, fully, in one of these roles; a professional undertaking a two-month contract at an organisation will often not immerse themselves so fully in a company's culture as an employee who has worked there for a number of years."
So what do these results spell for the future of the communications industry in Europe? Whilst VMA Group does not anticipate a significant restructuring across the industry as a whole, it does suggest that employers who wish to attract and retain the brightest communications talent will have to give greater consideration to their employer brand and how they communicate it, both at home and internationally. A blank cheque-book is not enough to convince communication professionals to come on board.
Other key findings of the survey include:
72% of participants report that relocating to a new country for a job role is something that they would consider.
International organisations are greatly preferred, with 87% indicating that this would be their ideal next career move.
Smaller businesses haven't come out on top, with 81% of respondents preferring to work for a company of either the same size or larger.
91% of participants would change jobs provided that they could either stay in or take up a management role.

Methodology
These findings are taken from the second Understanding the European Communications Labour Market survey by VMA Group, published in 2015. This research compiled responses from over 250 communications professionals who currently live and work in Europe (excluding the UK but inclusive of British expatriates working in Europe) – predominantly in France, Belgium, Germany, and the Netherlands. Its main focus was on new career opportunities; what were these professionals looking for in positions, or what was it keeping them in their existing role. Factors such as job title, sector, industry and location were investigated.
A full copy can be downloaded here.

If you enjoyed this article, you can subscribe for free to our twice weekly event and subscriber alerts.
Currently, every new subscriber will receive three of our favourite reports about the public relations sector.