More people relax with Facebook than Twitter claims latest PRmoment research
According to the latest online research commissioned by PRmoment looking at usage of social media sites Facebook and Twitter, over half of those interviewed claim to have a Facebook account, while just 13 per cent have a presence on Twitter. Facebook is also proving more popular with its users, as just over half of Facebook users log in once a day compared with under a fifth of Twitter users.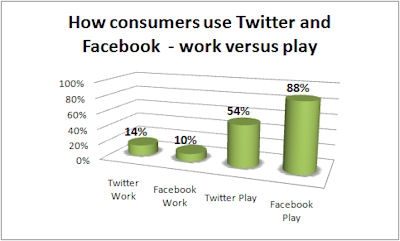 Supplied by Opinium Research
When it comes to the younger age groups, two-thirds of 18 to 34 year olds
check out Facebook once a day, compared with one third of those aged over 55. Again, Twitter showed a similar age split, with more than three times as many 18 to 34 year olds logging in daily than over 55 year olds.
The problem with Twitter, according to our research, is that 40 per cent of those who have tried it have only used it once or twice before getting bored. This is four times higher than the percentage of people who became similarly disenchanted with Facebook.
Facebook is obviously winning the vote for being fun to use, as 87 per cent of people say they use it for play, and only 7 per cent for work reasons. On the other hand, 54 per cent of those on Twitter are using it for play, while 14 per cent are using it for work. There is also a marked difference in how much more likely men are to use these social networks for work than women. Twice as many men claim to use Facebook for work than women do, while over five times as many men than women use Twitter for work reasons.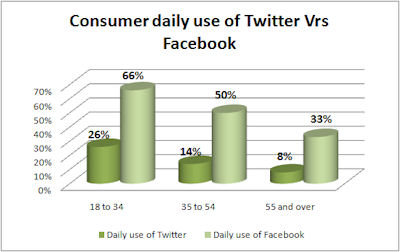 Supplied by Opinium Research
With such a high number of people now logging into social networks, the benefit to PROs is that this offers another way to reach key influencers and clients. But when it comes to PR work, Twitter is often the site of choice. Heather Baker, director of PR at TopLine Communications is one PR professional who is using it to converse with both clients, journalists and consumers. She says: "For the PR professional, Twitter is an excellent way in which to interact with journalists and push news to our target audiences. We use it to ask questions and generate debate, publicise our blog, research dialogue on topical issues and communicate with the media." Baker does admit, however, that Twitter isn't always the best way to reach journalists, as a surprisingly low percentage (according to TopLine research) are using the site, although: "those that do are very valuable to their PR contacts, often tweeting case study and interview requests before sending them out on the wire." But as Baker points out, there can be a downside: "Phone a journalist with an irrelevant request or a poorly researched pitch and they'll name and shame you on Twitter you within minutes!"
With our research highlighting how people turn to social networks, and in particular Facebook, as a way of socialising and relaxing, one worry is that their minds may not be focused on security. Charlie Abrahams, vice president of online fraud specialists MarkMonitor, believes that the increased use of social networking sites has opened up new ways for fraudsters to access consumers' credentials information and to use these for account takeover scams related to online banking, auction and payment sites. He explains: "This is because social networkers usually expose a lot of key data – names of relatives or pets, address, relationships – which can be used to validate a user's identity on financial websites. Criminals can also gain access to a network of friends via a social networking site through which seemingly trustworthy communications can be sent, targeting more valuable credentials information."
Abrahams adds that these are some of the reasons why there has been such a dramatic increase (up 168% according to MarkMonitor's Brandjacking Index) in the number of scam sites that send fraudulent emails to social networkers.
Methodology

Opinion Research carried out 1398 online interviews for PRmoment in the UK, from 29 to 30 September 2009.
If you enjoyed this article, you can subscribe for free to our twice weekly event and subscriber alerts.
Currently, every new subscriber will receive three of our favourite reports about the public relations sector.