Media coverage of banks changes from bankrupcy to bonuses
Banks are still making the headlines, but as the recession progresses, the spotlight is moving to different topics, in particular lay offs and financial losses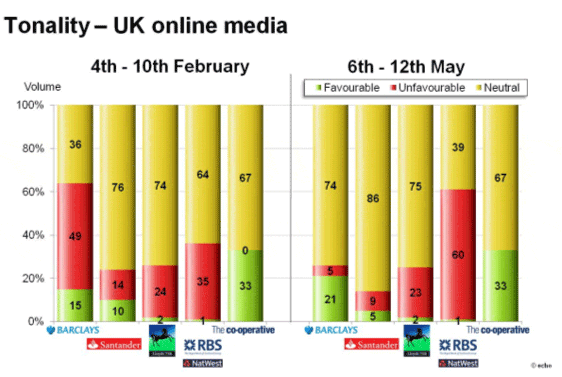 Supplied by Echo Sonar
Research commissioned by PRmoment comparing online news coverage of major banks last week with coverage in early February, suggests that the media are being fairly easy on our leading financial institutions. For most banks, positive and neutral reporting makes up the majority, although last week Royal Bank of Scotland (RBS) was making headlines for negative reasons in 60 per cent of its coverage. Last week the bank reported a loss for the first three months of 2009 and announced that more job cuts were to come.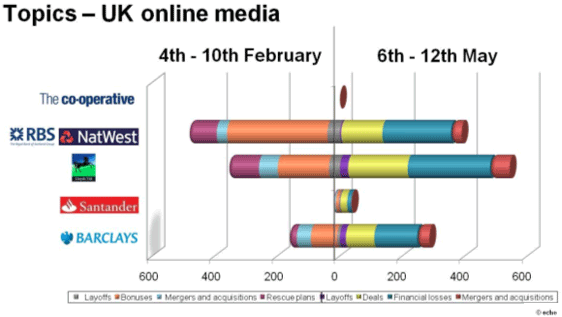 Supplied by Echo Sonar
Apart from RBS, around two-thirds of coverage of the banks was balanced, reflecting success of the banks' PR teams in presenting their organisations well. The Co-operative Bank received greatest good news coverage, with one-third of its coverage being positive, which is the same as it received in February. For the most part, tonality of news has not altered a great deal, apart from the increasing negativity towards RBS, and a considerable drop in negativity towards Barclays. This may be because Barclays announced a raise in profits on 7 May whereas on 9 February it reported a drop in profits of 14 per cent for the full year of 2008 compared to its profits taken in 2007. Alistair Smith, head of media relations at Barclays, points out that the past 18 months have been extremely challenging for all banks. He discusses Barclays media strategy in such difficult times: "Given the attention focused on us, it has been vital that we are clear in our messages, consistent in their delivery across all channels and responsive to the challenges that the organisation faces. It has also been important to continue talking to journalists and explaining the bank's position even at times when it feels that none of what we are communicating is getting across." Andy Smith, head of media relations (retail bank, investment and wealth management) at Abbey says that good news is more interesting if it is unexpected: "For example, Abbey's Q1 results received universally good coverage through out all print media in late April, but this was because it bucked the trend by showing growth in profits and reduction in provisioning for bad debts."
Rescue plans and bonuses were the main focus of news stories in February, whereas last week the news was mostly about financial losses, with worries about banks burying their debts. However, this is almost balanced out by more positive deal information as well as news about mergers and acquisitions. It seems that news does not have to be grim to grab the media's attention.
One positive aspect of the recession, for PR professionals in banking at least, is that it has pushed finance higher up on the news pages. As Smith states, "the credit crunch has definitely moved financial issues further up the book in newspapers and onto main broadcast news. This should be seen as an opportunity by the banks."
Methodology
PRMoment
asked Echo Sonar to conduct a media audit of coverage of five leading banks from 4-10 February and 6-12 May 2009. Echo Sonar analysed all UK online sources, and metrics included share of voice, tonality assessment and leading media topics. The banks looked at were Barclays, The Co-operative Bank, Santander, Lloyds Banking Group and Royal Bank of Scotland Group.

If you enjoyed this article, you can subscribe for free to our twice weekly event and subscriber alerts.
Currently, every new subscriber will receive three of our favourite reports about the public relations sector.