Judges rule in X Factor and Strictly Come Dancing headlines
When it comes to the PR and media war between Strictly Come Dancing and X Factor, it appears that X Factor is stirring up twice as much coverage. According to research commissioned by PRmoment looking at online coverage of the two TV shows, X Factor is mentioned in 68 per cent of stories, and Strictly in 32 per cent.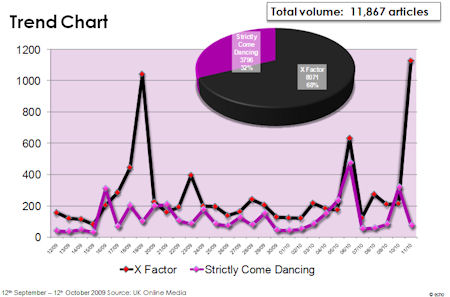 Research supplied by Echo Sonar
X Factor also appears to be ahead in the ratings battle at the moment, but only by the smallest margin. On 5 October, digitalspy.co.uk said: "X Factor edged ahead of Strictly Come Dancing in the ratings last night, according to early figures. Last Saturday Strictly was on top, with 8.59m (40.6%) to its rival's 8.18m (36%). This week the ballroom show improved to 9.22m (39.9%) between 6.45pm and 8pm, but its ITV1 rival improved more still, averaging 9.84m (40.5%) between 7.45pm and 9.15pm."

For both shows, the main source of stories are the judges, particularly for X Factor, which has 6,658 stories on this topic compared with Strictly's 1,440. One of the most recent stories to hit the headlines concerned X Factor's Dannii Minogue, following remarks she made to one of the contestants that many found inappropriate. Dailymail.co.uk wrote on 11 October: "Dannii Minogue has been forced to issue a grovelling apology to X-Factor contestant Danyl Johnson after joking about the singer's sexuality."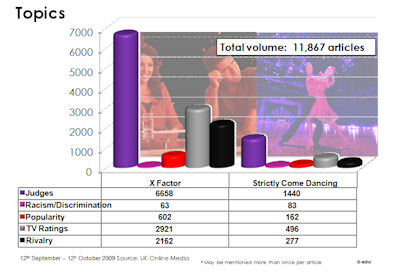 Research supplied by Echo Sonar
It is not just judges who should watch what they say, one of Strictly's professional dancers also had his foot firmly in his mouth recently – Anton Du Beke made an unfortunate comment to his dancing partner, apparently about her spray tan. One of the latest stories covering this was reported by The Mirror, at mirror.co.uk, on 13 October: "Strictly Come Dancing's Craig Revel Horwood has defended Anton Du Beke over reports that he called partner Laila Rouass a 'Paki'. The judge described Anton as a 'nice bloke' and urged people to move on following the professional dancer's public apology on Friday."

The judges are stirring up controversy, and this is just what the tabloids love. One person who has been watching the shows' coverage with interest is Gareth Dimelow, senior creative strategist at marketing agency Jack Morton Worldwide. Dimelow writes the pop vulture blog and speaking to PRmoment, he analyses how scandals are good for headlines, whether or not they are good for the shows themselves: "If the papers are to be believed, Anton De Beke is a 'dead man dancing', Dannii has alienated her entire fan base, and Alesha Dixon seems about as deserving of the job title 'judge' as Ronnie Biggs.
"The tabloids are filled with so many explosive exclusives and exposes, Scrabble may have to downgrade the value of the letter X. Like Coke vs Pepsi, Oasis vs Blur or Jordan vs Peter, this is a war where nobody loses. The greater the scandal, the bigger the show. As a result, it doesn't really matter whether The X Factor scores 12 million viewers over 9 million for Strictly, especially since over 2 million people watch one and record the other. They're both dominating the headlines, and the only people who seem to be overlooked are the contestants."
Methodology

PRmoment asked Echo Sonar to analyse all UK online media coverage of X
Factor and Strictly Come Dancing. The research period was from 12 September to 12 October 2009. Metrics included trends and topics.


If you enjoyed this article, you can subscribe for free to our twice weekly event and subscriber alerts.
Currently, every new subscriber will receive three of our favourite reports about the public relations sector.