How video can help brands reach millennials
PR Research
3 minute read
With print circulations decreasing and online paywalls popping up in all directions, shifting media mechanisms are having a huge consequence for companies who want to be seen. The increasing consumption of digital content across the globe has the potential of more targeted marketing. But you need to know who watches what, and where. Recent research from digital insights company Toluna highlights the consumption habits that are typical of different ages, in particular that of millennials.
Whilst the popularity of print is plummeting, some facets of the media are as influential as ever. Indeed, 94 per cent of the survey's respondents confirmed that they watch television. However, when it comes to the small screen, 61 per cent of millennials cited Netflix as their first or second favourite viewing method of choice. In contrast, cable television was recorded as the viewing method of choice by non-millennial respondents. As governments worldwide move towards crackdowns on illegal internet streaming to the top of their agendas, this shift in millennials towards web-based television viewing via official streaming platforms is increasingly significant.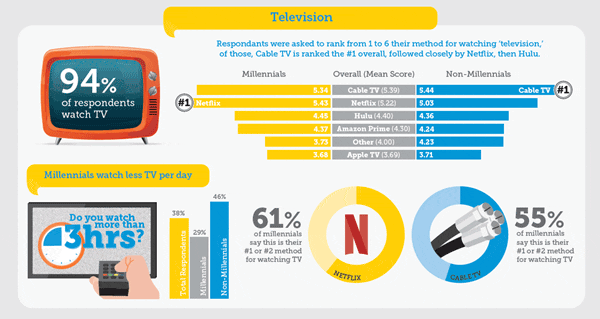 Similarly, traditional radio remains the number one method for listening to music across both age groups. What's worth noting is how millenials' responses were spread across a wider range of options than their non-millenial counterparts. Whilst 40 per cent of non-millennials picked traditional radio as the top choice, a lower 29 per cent of millennials did the same, leaving the rest of the millenial group choosing digital music platforms like iTunes and Spotify as other frequently used options.

Somewhat predictably, the relatively new phenomena of social media reveals a sizeable discrepancy in usage depending on age group. Out of the non-millenial respondents, 17 per cent claim to never use any form of social media compared with just 3 per cent of the millenial cohort.
Further discrepancies that the survey highlights are that millennials will share advertisements with friends and family if it offers some kind of value outside of the product it promotes. Specifically, millennials will share humorous ads over any other type of advertisement. By creating content that speaks to the millennial appeal, advertisers can amplify their product across generations and social channels.
As digital platforms become increasingly familiar, and our millenials of the moment grow up, the difference in content consumption will become less clearly cut. To make the most of the distinction that can currently be drawn between millenials and non-millenials when it comes to digital, companies must act now.
Methodology
These findings are based on survey of 1,000 respondents in the UK and US, conducted by Toluna, which examined different age groups' attitudes towards different types of media and associated advertising.
Written by Frederic Charles Petit, founder and CEO of Toluna