How digital is transforming retail sector trade communications
PR Research
2 minute read
Digital has been fundamental to the way leading grocery retailers operate and communicate with their stakeholders, but the convenience and independent retail sector has been slow to catch on. However, according to latest research from consumer brand PR consultancy, Cirkle, the tide is turning and retailers recognise that they can no longer ignore the digital channel in trade communications strategies.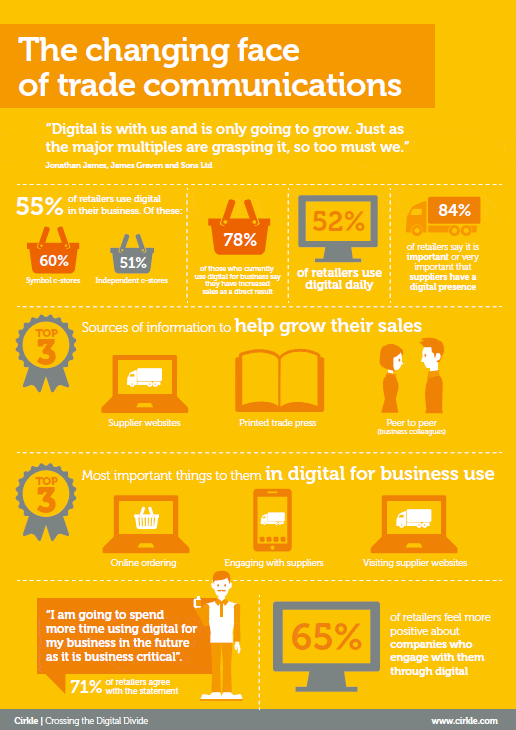 Key research findings which support the fact that digital needs to be reflected in a trade communications strategy are:
An overwhelming majority of retailers say it is important or very important for suppliers to have a digital presence.
Retailers site supplier websites as the number one source of information to help them grow their sales.
Almost two-thirds (65 per cent) of retailers will actually feel more positive about companies who engage them through digital.
"And we can be assured that this trend to digital is here to stay with 71 per cent of retailers looking to spend more time using digital for their businesses in the future" says Bryony Pemberton, insights and planning director, Cirkle.
Discussing what retailers are doing when they are online, Pemberton says: "Fundamentally, retailers have been driven online by online ordering, but nearly two-thirds of retailers believe a trade website is vital and nearly 50 per cent believe e-newsletters to be an effective and popular way to be engaged and have information supplied directly to their inboxes."
The top five digital priorities of retailers are:
Online ordering
Engaging with suppliers
Visiting supplier websites
Seeking advice/training
Email marketing
"Understanding the needs and wants of retailers digitally and how they spend their time online, can help ensure your digital activations are a targeted and effective element in your integrated communications strategy" concludes Pemberton.
Methodology
The research carried out at the end of 2012 and start of 2013 was commissioned by Cirkle and completed by leading research agency him!. The study was carried out with 220 UK retailers representing a cross section of the convenience and independent sector including symbol, retail club and unaffiliated independents and engaged them through telephone, face to face and in depot interviews.