How B2B communicators can make better use of social media
PR Research
3 minute read
It is a myth that business-to-business brands do not need to be active on social media. B2B is obviously less public-facing than business-to-consumer, but this does not mean that B2B companies are ignoring social. According to a study by social media monitoring tool Brandwatch, there is a tremendous amount of social data that many B2B brands are already using to drive better-informed business and marketing decisions. However, many companies are missing a few tricks, for example by failing to publish enough content at peak periods, such as weekends.
Brandwatch's two-month analysis of 200 B2B social channels collected over 5 million online conversations, which in itself tells us that B2B brands are engaging with, and on, social sites. Joel Windels, VP inbound marketing, EMEA at Brandwatch, outlines a few highlights of this research that can help PROs to make better use of social when working on B2B campaigns.
Timing of social output
Whilst many B2B brands successfully generate audience activity with their content, they do not effectively optimise on the highly engaged days of the week. Whilst B2B brands average 4.96 tweets per day throughout the work week, the volume of owned posts sharply drop to an average of 1.83 tweets over the weekend. Regardless, their audiences are more engaged at the weekend with twice as many retweets and mentions per post. Businesses with social intelligence will boost their overall buzz by publishing more content at the weekend, strategically capitalising on a time when their audience is more engaged.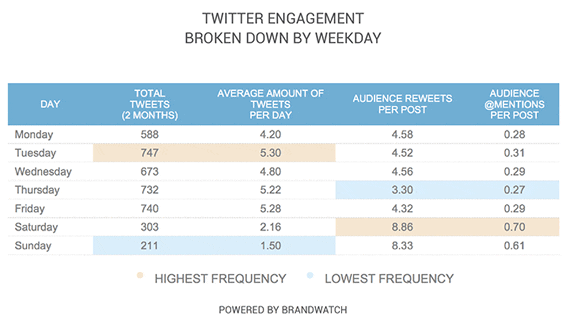 Speak the same language as your audience
Some owned B2B accounts communicate using strikingly similar methods as their audience. In fact, they use exactly the same amount of hashtags and videos and only differ slightly for images (2%), replies (6%) and links (7%).
This is not the case for every industry though. The medical industry, for example, uses hashtags far more often than its audience who use @replies. Digging further into the discrepancy reveals that a large portion of the audience's @replies come from lengthy and in-depth conversations from influencers within the medical audience. Brands tend to shy away from such discussions on social. Speak the same language as your audience, for example, there is no point in using hashtags if your desired audience isn't following suite.
Use demographic insights to inform your media targets
A demographics analysis of B2B conversations sheds light on the nature of the discussion and the authors driving it. These insights are useful for sales, PR and even product as each team tries to identify their audience and their audience's interests.
Among the 200 B2B businesses analysed, 65% of B2B conversation came from males while 35% was from females. The audience's top interests are business, technology and sports. Their top professions include executive, software developer and sales/marketing roles. By paying attention to this when constructing a traditional or social media list, you can hit your target market from all sides.
Methodology
The 200 companies examined in this report were chosen to reflect leaders the B2B market. Annual income was the primary factor used to evaluate leadership – total employees did not factor into the selection. To collect the data presented in this report the social media monitoring platform Brandwatch Analytics was used. The platform allowed a search for mentions of a brand from over 90 million web sources including news portals, social networks, in blogs, forums, review sites, video and photo sites.
If you want to hear more about the challenges of social media communications in B2B markets, then why not come along to our Social Media in B2B Commuications conference on Oct 8th. Here are the details of the full speaker progamme, inlcuding seven in house speakers.