Glastonbury recieved near blanket media coverage, PRMoment looks behind the scenes
PR Research
4 minute read
Whatever the weather, summer means festivals, and according to our research, Glastonbury is succeeding in hitting the right notes with its publicity.
Analysing UK online media coverage of six key festivals since April this year, shows that Glastonbury dominates with 40 per cent share of voice. This is not surprising, as Glastonbury is the largest green-field music and performing arts festival in the world. A great deal of media coverage praises this year's festival, for example, on 17 May The Guardian writes, "the sheer breadth and quality of the line-up and the unbelievable variety of things to do and see mean Glastonbury is still top of the class." As the festival is in just a week's time (24-28 June), the press office there is handling a huge amount of press calls at the moment, and as one press spokesperson there says "We are up to our eyelids, it is such a busy time for us, and this will not ease up until after the festival".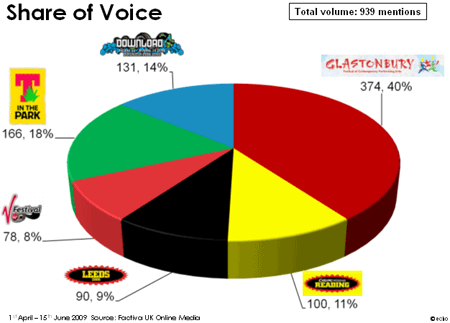 Supplied by Echo Research
Glastonbury is famous, not just for its music, but for its lack of commercialism. Visit its site, for example, and the only logos on display are for charities Water Aid, Oxfam and Greenpeace, whereas at the Download site logos include retailers HMV, rock magazine Kerrang! and brewery company Tuborg. Talking about its involvement with Glastonbury, Duncan Wilbur, corporate development manager at Water Aid says: "As well as giving us the chance to promote our work at the festival, the festival organiser Michael Eavis also generously donates a portion of the festival's proceeds to WaterAid.
"The festival allows us to promote our work to a huge audience by allowing us to screen our films, run the VIP latrines and female urinals, work backstage talking to celebrities and man our stand at the Pyramid Stage (the main stage)."
Director of Western Associates PR Paul Whitehead says that the lack of corporate feel is what makes Glastonbury special; "Many fans of the Glastonbury Festival praise 'da lord' that corporate presences are kept to a relative minimum. The festival has an ethos that is still somewhat counter culture and ethical. The day that the Pyramid Stage is covered with corporate logos is the day many will stop going."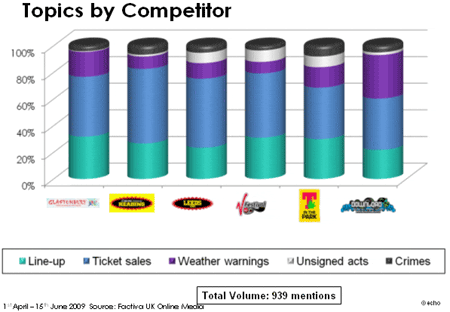 Supplied by Echo Research
As Glastonbury is the largest festival and has such a loyal following, it can afford to be less commercial. For others, and for the companies that support them, it is vital to maximise the profitability of the event by having big names as bands, and big names as brands. As Natasha Kizzie, head of entertainment at marketing communication agency Euro RSCG KLP, says: "PR continues to be a driving factor with music festivals, not only for the bands involved but increasingly the brands associated with them. It's about increasing your reach and delivering greater return on investment, which is vital in these times. The third-party endorsement is vital to drive credibility. PR amplification is something that we as an agency have always recognised as a key factor in a brand's festival communications plan, from as long as 10 years ago, with T In The Park, Carling's title sponsorship of Reading and Leeds and Witnness for Guinness (now Oxygen)."
After Glastonbury, T in the Park gets 18 per cent coverage followed by Download with 14 per cent and Reading, Leeds and V Festival with around 10 per cent each. This being Britain, weather warnings are a popular subject, but the main topics discussed are ticket sales followed by information about line-ups.
Methodology
Echo Sonar analysed UK online media coverage of festivals from 1 April to 15 June 2009. The festivals looked at were Glastonbury, Reading, Leeds, V Festival, T in the Park and Download. Metrics included share of voice, volume of media topics and notable and quotable. The common leading titles talking about the festivals include Virtual Festivals, Digital Spy, Music News, MSN UK, The Scotsman, Independent on Sunday, Female First, Daily Mail, London Lite and Metro. A large proportion of regional titles also appeared in the research, talking about their local festival.

If you enjoyed this article, you can subscribe for free to our twice weekly event and subscriber alerts.
Currently, every new subscriber will receive three of our favourite reports about the public relations sector.