Car industry battles closures but holds its own in the media war
PR Research
4 minute read
The automotive industry is going through tough times, but latest research commissioned by PRmoment shows that the media remains balanced in its coverage, and is certainly not twisting the knife.
Looking at online media coverage in the last two months, by far the majority of stories were covered in a neutral way. General Motors (GM) faced the toughest criticism, with 34 per cent of negative stories, but considering the troubles this giant company is facing, it could have been a lot worse, indicating that the press office there is earning its money.
Brief the media
In the 1950s, GM was the most successful company in world history and an icon for world manufacturing, yet now it is facing bankruptcy and has plans to close dealerships, factories and cut thousands of jobs. As one report on 2 June puts it at FT.com, "General Motors is stumbling towards oblivion." However, many articles were balanced with favourable reports of supplier assistance and concessions for the GM workforce.
Denis Chick, director of communications UK and Ireland at GM, says that as there is such a vast amount of interest in the business, it is important that: "we always keep on the front foot and stay one step ahead of the media". Part of the media strategy is to always do thorough background briefing. One example of this is with the US Chapter 11 bankruptcy law, which is often misunderstood in the UK (this is a protection law that allows a firm to keep trading while it aims to sort out its finances). To counteract misinformation spreading, 35 of the top media commentators in this country were given a rigorous briefing session on what Chapter 11 really means. This was extremely successful, with several of the journalists saying afterwards how pleased they were that this meeting had taken place. Chick says: "When we are facing many business challenges, it is a case of trying to make sure that the media is briefed accurately, and that the more positive messages get through." Chick points out that by properly informing the press well in advance, it is not able to "speculate wildly in the wrong direction.". After all, the wrong speculation can lead to a great deal of damaging publicity that in the end could affect the company's actual performance and even lead to job losses.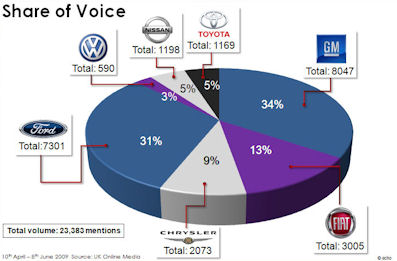 Supplied by Echo Sonar
GM and Ford dominated online coverage (34 per cent and 31 per cent respectively) of the industry in the last two months, with bankruptcy and closures being the main topics, reflecting the tribulations of today's car makers. For example, according to a news report on 8 June at bbc.co.uk, the British car industry is in a great deal of trouble, with a "collapse in sales, mass layoffs, factory shutdowns and even bankruptcy." The report continues: "the recession began with a banking crisis, but in the UK it is manufacturing that has taken the biggest hit and no part of manufacturing is suffering more than the car industry."

Well over half the stories about GM concerned US Chapter 11 bankruptcy law and this law was one of the main topics for most manufacturers, including Fiat, Chrysler and Toyota. Toyota was referenced in many stories surrounding GM and Chapter 11, as a point of comparison, for example at TimesOnline.co.uk on 3 June a report says: "Someone looking at the car industry half a century ago would be hard-pressed to believe that today Toyota would be top of the pile while General Motors languished in Chapter 11 bankruptcy protection."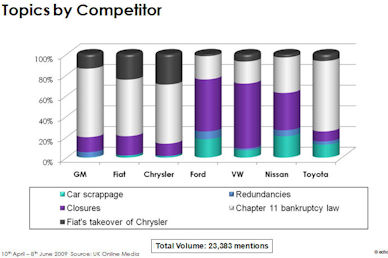 Supplied by Echo Sonar
The other main subject dominating stories is closures, particularly for Ford and Volkswagen. As Fiat is currently in negotiations to take over part of Chrysler, it is not surprising that these two manufactures recorded a higher proportion of takeover stories.
The government's car scrappage scheme, where cars that are more than ten years old can be scrapped in return for £2,000 of a new car is also a key topic, particularly for Ford, Nissan and Toyota. Some manufacturers delayed the start of its involvement with the scheme, after expressing concerns and VAT and tax arrangements, but these were resolved, leading to further positive reports, including on Sky news (at Sky.com) on 19 May, "Ford said vehicle deliveries from the scheme will commence tomorrow and that it had taken 3,000 extra orders thanks to the initiative."
Methodology

Echo Sonar analysed UK online media coverage of car manufacturers Chrysler, Fiat, Ford, General Motors, Nissan, Toyota and Volkswagen from 10 April to 8 June 2009. All UK online sources were analysed, looking at share of voice, tonality assessment and volume of media topics.

If you enjoyed this article, you can subscribe for free to our twice weekly event and subscriber alerts.
Currently, every new subscriber will receive three of our favourite reports about the public relations sector.