Apps rule when it comes to coverage of iPhone and Blackberry Storm
PR Research
4 minute read
The iPhone is succeeding in dominating online coverage according to research commissioned by PRmoment looking at European online media coverage of the iPhone and Blackberry Storm in the last three months.
The Apple iPhone succeeded in generating over 17,022 mentions compared with 715 for the Blackberry Storm. However, as iPhone launched the 3GS model in June, with a comprehensive publicity drive, this goes some way to explaining why it has been in the news so often. The Blackberry Storm was launched in the Autumn 2008.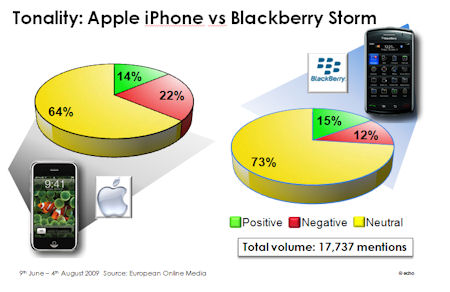 Supplied by Echo Sonar
Discussing the iPhone in an audio web cast on July 21, Peter Oppenheimer, chief financial officer, senior vice president at Apple (see his transcipt here) talks about the success of the launch, saying "We are thrilled to have sold over 5.2 million handsets in the June quarter, compared to 717,000 handsets sold in the year-ago quarter. Response to the new iPhone 3GS has been tremendous, with over 1 million 3GS handsets sold by the third day after its 19 June launch.
In terms of tone of voice of the coverage, both phones have generally received balanced reports (64 per cent are balanced for iPhone, 73 per cent for Blackberry), although the iPhone has a higher percentage of critical coverage (22 per cent of negative iPhone stories compared with 12 per cent of negative Blackberry stories). Negative press surrounding the iPhone focuses on security and hackers. Negative press surrounding the Storm is about its comparatively poor features in comparison with the iPhone. Good news surrounding the iPhone is focused on sales growth and technological innovation, and for the Storm on it being the best Blackberry so far.
Looking at how the two handsets' attributes are being discussed, it appears that applications are where it's at. For the iPhone, applications are mentioned over twice as often as its value and innovation, and over three times as often as its styling. Discussing its vast range of applications, Apple's Oppenheimer says "Customers are loving the new iPhone OS 3.0 release, which includes more than 100 new features, including cut, copy, and paste, MMS, spotlight search, a landscape keyboard for mail, and expanded parental controls for iTunes and App Store content. The App Store now offers over 65,000 applications. Customer response to the App Store has been phenomenal and we were thrilled to announce the 1.5 billionth download last week."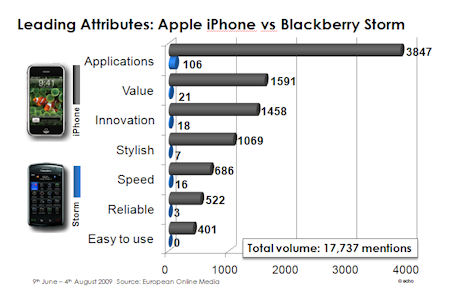 Supplied by Echo Sonar
For Blackberry, applications are mentioned five times more often than its value and innovation and over 15 times more often than its styling. As the Blackberry was launched in Autumn 2008, many articles appeared at that time comparing it with the iPhone. For example, at phonesreview.co.uk, one article finds in favour of the iPhone: "The BlackBerry Storm does have a few advantages over the Apple iPhone such as a higher resolution screen, far better battery life, which is also removable, more memory, 9GB as opposed to the iPhone's 8GB, a 3.2 camera as opposed to the iPhone's 2 megapixels. But the one gut-buster with the Storm is probably the lack of WiFi." Meanwhile, at Wired.com another article is rather more favourable towards the Blackberry, saying "The Storm's screen is a wee bit smaller but sports a higher pixel resolution than the iPhone screen" says Wired.com's Daniel Dumas.
For PR professionals, having a handset is such a vital tool, that many are attached emotionally, as well as literally, to their phones. Kelly Lloyd-Watson, consultant at PR firm Real Reputations says, "I use an iPhone because it's cool and trendy. Also, I have Apple running through my veins so will always opt for anything that has its logo on it". On the other hand, Katharina Winkler, account manager, corporate at Ogilvy Public Relations Worldwide is a fan of her Blackberry, saying, "it saves me a lot of time, because I travel in to London from Brighton every day, and it allows me to check my emails and send out urgent messages. I also like it because of its internet facilities and use it to go to BBC online and Twitter". Whichever handset you have, it is important to switch off sometimes, and as Winkler says: "You have to be disciplined and not become a slave to your phone."
Methodology

PRmoment asked Echo Sonar to analyse European online media coverage of the Apple iPhone and Blackberry Storm. The research period was 9 June to 4 August. Metrics included share of voice, tonality assessment and volume of product attributes.