Why Martin Sorrell is my PR hero by Djembe Communications' Mitchell Prather
I think it's got to be hard not to admire a man who employs over 200,000 people after turning a company that made wire shopping baskets in to a FTSE 100 with a market cap of $29.4 million and 3,000 offices in 113 countries.
Of course, lots of people have built and run successful network agencies - and most with much less controversy. Sorrell has fairly regular run-ins with shareholders. This year 33% voted against his £70m pay package. Of course, he survived. The company's share price rocketed from 1,503 in December 2015 to 1,827 today (16 October).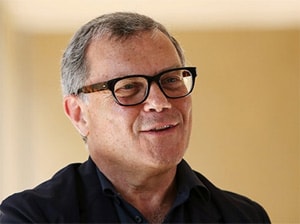 The WPP mission? 'To develop and manage talent; to apply that talent, throughout the world, for the benefit of clients, to do so in partnership, to do so with profit.' To me, this sums up the man. Over three decades he has ruled with an iron financial fist. Financial responsibility that runs through every office and department in to each and every agency and departmental head and account director. That's smart.
I admire the fact that Sorrell takes risks. He's always on the hunt for new acquisitions. He has a nose for talent – and an even keener nose for profitable agencies. He has embraced change, riding the dot.com shock and the global recession with a cool head. He cuts away the fat, invests where he can, adopts new methodologies and looks after his best and brightest.
This year WPP was named Holding Company of the Year at the 2016 Cannes Lions International Festival of Creativity. For the fifth year running. Without question, Sorrell is one of Britain's greatest business successes and he really should be an inspiration to anybody running an agency network
Article written by Mitchell Prather, managing director of agency Djembe Communications
If you enjoyed this article, you can subscribe for free to our twice weekly event and subscriber alerts.
Currently, every new subscriber will receive three of our favourite reports about the public relations sector.