Why Facebook has bought WhatsApp
Blog
1 minute read
Facebook has just announced the acquisition of the popular messaging app WhatsApp, for a deal worth $19b.
This is the social networks largest purchase to date and an infographic by wearesocial gives some clues as to why they decided to pay top dollar!

According to the infographic below there is a total of 450 million active users globally, with a massive 1 million new users signing up each day - potentially giving Facebook a grip on the messaging market. Facebook's current activity in this sector is their 'Poke' app which will continue to operate.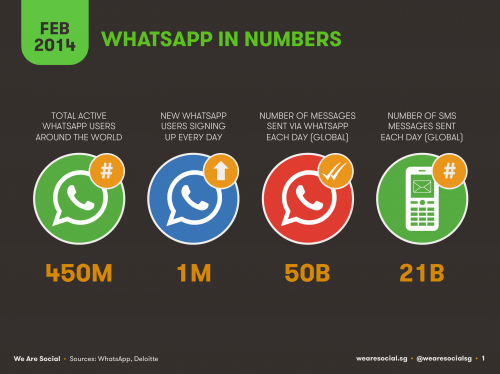 The combination of WhatsApp and Facebook
The graph below also highlights WhatsApp's popularity. With Facebook in the lead with 1,184 million users, WhatsApp is fourth, just below QQ and Chinese social networking site Qzone.