Why Ab Fab's Edina is my PR hero, by Bite's Rachel Gilley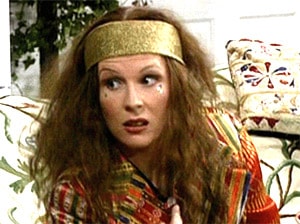 Let me take you back to a time when PR was seen as an industry of excess. Some agencies thought wining (a lot of wining) and dining was the way to do business. It was all about relationships. I scratch your back, you scratch mine – and we'll all have a bloody good time doing it.
Then along came the BBC programme Absolutely Fabulous.
My PR hero is Ab Fab character Edina 'Eddy' Monsoon, the heavy-drinking, drug-abusing PR agent who spends her time chasing bizarre fads in a desperate attempt to stay young and hip. She has the (slightly) exaggerated persona of many who were working in the industry at the time. And just like that, the PR world was blown wide open.
The TV masses had a window into a world they suspected existed, but had never truly seen. Until then, PR had been viewed as a dark art, conducted in expensive restaurants and uber cool parties in Chelsea, spin doctoring itself for stratospheric budgets, but delivering mediocre results.
The bad behaviour of a host of agencies meant we were all tarred with the same brush. But the game was up. They'd been found out. The champagne had to stop flowing. This was a good thing for us all because it sorted the wheat from the chaff. Suddenly, we were accountable for delivering work that we and our clients were proud of. We were only as good as the output secured, not the time spent trying.
Our clients got smarter, and rightly demanded more from us. As a result, we all rose to the challenge by getting more creative; we invested in specialists who truly understood our clients' worlds; we researched and brought in the very best tools and technologies to ensure our ideas were steeped in insight rather than instinct.
We had to deliver results – on smaller budgets than we were used to – that impacted the business, not simply the head of department KPIs.
PR is no longer seen as a strong cocktail of hangovers, holidays and hearsay. It's a profession of integrity that requires strategy, consultation and integrated, multi-channel delivery. And it's arguably thanks to the debauched antics of Edina Monsoon, owner of a public relations firm whose only steady client is 1960s' pop singer Lulu, that we've come this far, darling.
Article written by Rachel Gilley, deputy managing director at communications agency Bite
If you enjoyed this article, you can subscribe for free to our twice weekly event and subscriber alerts.
Currently, every new subscriber will receive three of our favourite reports about the public relations sector.