Which brands battled to hijack Games of Thrones?
Game of Thrones is a TV cultural phenomenon. Two months of trails across Sky, heavy media spend, a launch event at the Tower of London, and more than one million mentions across social… in a world of increasing media fragmentation it feels like one of the few shows which can define a season launch as 'an event'.
The volume of content and conversations it ignites across the digital landscape is no surprise. In the few days leading up to the show's UK premiere, Waggener Edstrom's Brand Agility Index had already seen more than 400,000 references to the show. This presents brands with the perfect opportunity to leverage deep consumer interest and place their story in front of a highly engaged audience. But as ever, not every brand is relevant to the conversation, not every brand is original in the content it creates and not every brand engages as well as they could.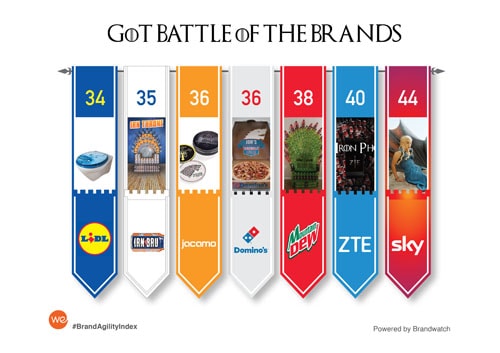 It's no surprise that Sky, which owns the rights to broadcast Game of Thrones in the UK, has come on top for a second year running. The TV channel has been actively pushing a variety of different content in the lead up to the Season 5 premiere last night, from events to hashtags and exclusive content, it's clear they have an extensive calendar powering their social activations and as a result they've seen tremendous uptake and scored highly across parameters such as Relevance, Originality and Scalability.
The surprise performer was men's clothing label Jacomo. The audience overlap is clear and the brand scored well across most parameters but the key driver for success was the launch of a Game of Thrones competition that offered winners the chance to tour key locations within the Game of Thrones world. The lesson here is simple – offer your audience exclusive 'money-can't-buy' content and see high levels of engagement in return.
Lidl came at the bottom of the league due to a poorly thought-out campaign. The retailer published a single tweet relating to toilet seats and a play on the phrase 'Game of Thrones'. Whilst this certainly had comedic value, the store could have done more to sustain engagement from a better mix of hashtags, better quality imagery and content that was tied more closely to the show.
Honorary mentions to Domino's for their Game of Thrones themed pizzas and Wickes for creatively bridging the conversation towards DIY, and raised eyebrows to any brand which tweeted a picture of the Iron Throne made from their product which at least four other brands did too.
For pop cultural events like the launch of a new TV season of a popular show the lessons for brands are clear: be relevant, be original and engage deeply.
If you enjoyed this article, you can subscribe for free to our twice weekly event and subscriber alerts.
Currently, every new subscriber will receive three of our favourite reports about the public relations sector.