Research defines the reputation cost of Tesco knowingly delaying payments to suppliers
We thought it would be a nice touch to look at the public precepton of Tesco following the kicking they got from the supermarket ombudsman earlier this week. Our research, undertaken by the guys at Opinion Matters, found that 42% of consumers said that their perception of the Tesco brand had changed as a result of the supermarket knowingly delaying payments to their suppliers. With 94% of these people stating their perception has changed for the worst.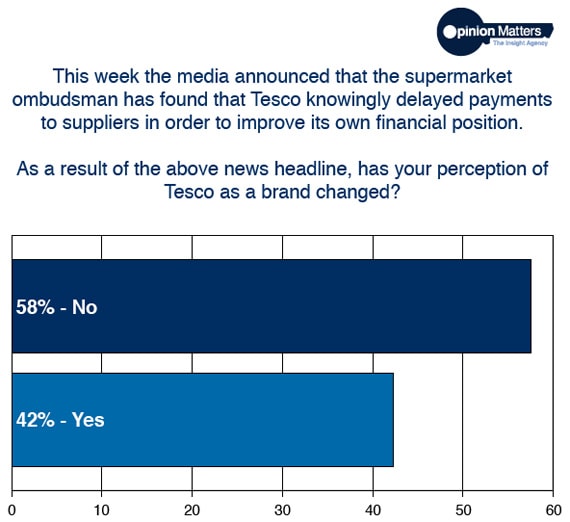 Research supplied by Opinion Matters
Other stats coming out of the research include:
54% of consumers say that they will actively look to shop less at Tesco stores based on the recent news that the supermarket has knowingly delayed payments to suppliers
90% of consumers believe that supermarkets have an obligation to honour supplier agreements
78% of consumers agree that the Tesco image will be damaged by the news story about the supermarket knowingly delaying payments to suppliers
97% of consumers admit to not knowing who the current CEO of Tesco is – with only 2% of consumers correctly stating that Dave Lewis is the CEO of Tesco. (2% calculated from 39 respondents correctly stating Dave Lewis in the open response)
Methodology: The research for PRmoment was carried out between: 27/ 01/2016 and 28/01/2016 by Opinion Matters Research. Sample: 1,796 UK Adults
If you enjoyed this article, you can subscribe for free to our twice weekly event and subscriber alerts.
Currently, every new subscriber will receive three of our favourite reports about the public relations sector.