Mark Schmid on moving back to agency side from client side
Blog
5 minute read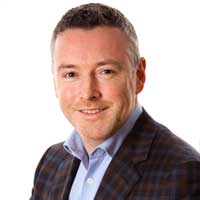 I recently caught up with Mark Schmid from Good Relations.

Mark is something of a rarity in PR, in that he was agency side, then went client side and now has come back to the agency world.

This gives mark an interesting perspective on the public relations market today and how it has evolved over the last 10 years or so. He's seen things client side, so as a buyer and from the agency side – so as a seller.

Why did you return to agency side after being client side?

I've never had a career plan mapped out. I've been lucky enough to be in the right place at the right time when great opportunities present themselves. I started working with Carphone Warehouse and TalkTalk back in 2005 while at their agency. I'd not given any thought to going in-house at that time but, when they asked me, it seemed the right time to try something new. It was a fascinating time to join the business. We experienced huge growth – organically and through acquisition of businesses including AOL Broadband and Tiscali –launching new products including 'free broadband' and TV and demerging the businesses.

We enjoyed battles every step of the way as we emerged from a group of challengers to become a major player competing with huge, established companies such as BT, Sky and Virgin Media. My job was made easy as the leaders of the business, Sir Charles Dunstone and Dido Harding, instinctively understand and empathise with customers and recognise the value of communication.

Over that period I worked with some great – and very different - agencies on projects spanning the PR disciplines, including Citigate, Freud, Launch Group, Bell Pottinger, Frank and Good Relations. When the time came for me to spread my wings again, I wanted to apply what I'd learned as a client to an agency role. Not surprisingly, I was most receptive to an agency I had an existing relationship with.

I still work with TalkTalk and I enjoy getting involved with other brands in completely different sectors too. Bringing some 'client side' insight to the account teams here is a task I relish.

What has changed the most about PR agency world since you left?

There are some obvious things, such as the ability to connect more directly with consumers and other stakeholders via social and online channels. Other changes show me that we're growing up as an industry. When I started out in agencies in the 90s, if I was asked what the brief from the client was my answer would invariably be 'to do their PR'. Now, accurate 'scopes of work' allow more accountability and better results. It's not a new thought, of course, but I do think it's being better applied for the benefit of clients and agencies.

What gets you excited about the future of PR?

In the race for talent, we're winning. That's a huge advantage and we need to make the most of it. Rightly or wrongly, a lot of bright young things choose PR and marketing over science and engineering so we have a steady stream of bright, determined people who want to make their mark.

A very long time ago, I did a PR degree at Bournemouth University, a good course with great people. Most of us ended up on that course as we didn't have many other options or much idea what we wanted to do next. In spite of that, many of my classmates are having great careers in PR, in fact I sit opposite one of them, Good Relations' consumer director Claire Curran. Today, I'm sure studying PR and other comms disciplines must be high on many smart students' lists.

PR is also in pole position to take advantage of the new platforms and channels that allow you to speak directly with consumers. I don't have much time for the 'who owns social' debate, to me it's academic. No one asks 'who owns television?' In my previous role it was pretty obvious that if we're talking about a CEO interview on News at Ten it was the comms team and if it was producing a 30 second ad or negotiating the media buy it was the brand team. The same thinking should apply to social. There's a big difference in social between the skills required to manage customer service enquiries, drive sales or create engaging content.

Is the idea of brand journalism limited in its potential to appeal to consumers/readers as it can never be seen as independent?

It's all about the balance you strike between the 'brand' and 'journalism' parts of the equation. Good brand journalism will maintain its perspective and be genuinely interesting and authentic.

Brand journalism always provides a point of view; it needs to be credible but is never going to be independent. What's important is to be sure the content is in line with audience passion points and that it's available in the right places at the right times. The last thing brands should do is talk only about themselves, so it's about finding ways to redefine the cultural relevance of your brand stories to your consumers.

Good Relations is working with two brand journalists to unlock and tell stories for Pilsner Urquell. We have a seasoned TV foreign correspondent based at the brewery in the Czech Republic who gathers stories and packages them up for our news desk. Then, here in London, we're working with leading beer writer Mark Dredge who brings a perspective from the vibrant international beer scene. We're creating a fully integrated brand world that you can start exploring.
Mark Schmid, Client Services Director, Good Relations