How PR can be used as a lead-generation tool?
Blog
3 minute read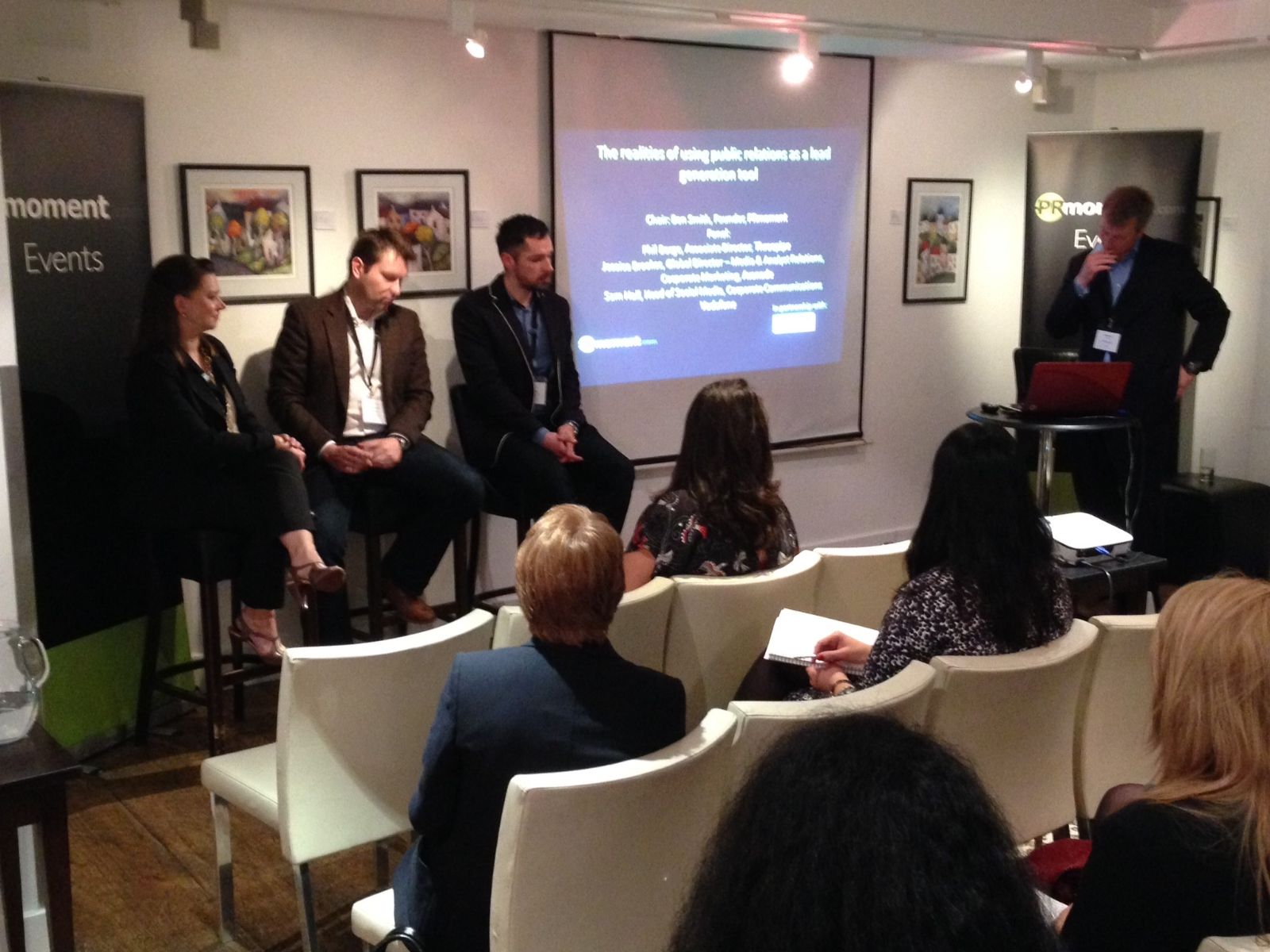 Public relations is a broad discipline, on the one hand we are responsible for a company's reputation, but on the other, there is the potential and the requirement for public relations to be used as a lead generation tool.

In partnership with Threepipe, PRmoment recently held a PR as a Lead Generation Tool seminar which explored these issues.

Speaking at the event were:

Jessica Brookes, Global Director - Media & Analyst Relations, Corporate Marketing, Avanade
Phil Borge, Associate Director, Threepipe
Sam Hall, Head of Social Media, Vodafone
Jessica Brooke's from Avanade discussed the importance of integration along the buying journey. Avanade breaks the engagement process into four stages – experience, engagement, evaluation and exploring.
The details of Avanade's influencer on mapping was impressive. This created a planning infrastructure to layer an integrated communications plan on top of. Then a co-ordinated communications program was produced using relevant channels.
Feedback from the sales team is key and this has worked to the extent that they now approach the corporate communications department to produce sales tools.
Phil Borge from Threepipe discussed the importance of human to human communications, believing that the emphasis on professional communications within a b2b context is too boring and often leads to non-engagement.
One of the stats Phil quoted made a lot of sense to me: "57% of the purchase process is complete before the buyer talks to a supplier". (source CEB)
I'm sure in this digital age of transparent information that is true. Thinking of my own experience – I research significant purchasing decisions thoroughly online before purchasing.
Phil went on to emphasise the importance of emotion when creating content to gain engagement with customers. To create impact it's important to create an emotional connection. This is likely to have a far greater impact than business leads or functional based communications.
The panel debate then followed whereby the importance of empathy within public relations was emphasised. Relevant, humorous and engaging storytelling was an important theme and Jessica Brooks from Avanade used the phrase curation. Which I think is a nice way of thinking about the role of modern public relations.
Vodafone's Sam Hall pointed out that the role of the modern in-house PR person has changed out of all recognition. Most senior PR people need to create integrated content across numerous platforms, including journalists, and this means that public relations professionals require a broad base of skill sets and experts within their teams.
The immediate transparency of digital communications means if integrated communications with your customers create an emotional response, are relevant to your audience, and plugged into your sales funnel – then public relations is an effective business development tool.