Business-to-business communications are really people-to-people communications
Business-to-business (B2B) communications are changing. They have become more specific to the customer; they are often by multiple channels and frequently involve multiple touch-points at various point of the buying cycle. But this creates lots of noise which means that it can be difficult for buyers to differentiate one firm's offer from another.
Octopus Communications' director Billy Hamilton-Stent believes that "B2B brands need to think about how they stop being part of the problem of noise creation and become part of the solution – this means understanding in a detailed way what your company's differentiation is."
PRmoment recently hosted an event that looked at the how B2B communications were becoming influenced by consumer marketing.
Our panel and speakers were:
Paul de Lara, corporate communications lead, Infosys
Chas Moloney, marketing director, Ricoh
Billy Hamilton-Stent, client strategy director, The Octopus Group
Kristina Eriksson, head of media relations, The Financial Times
How B2B buyers have changed: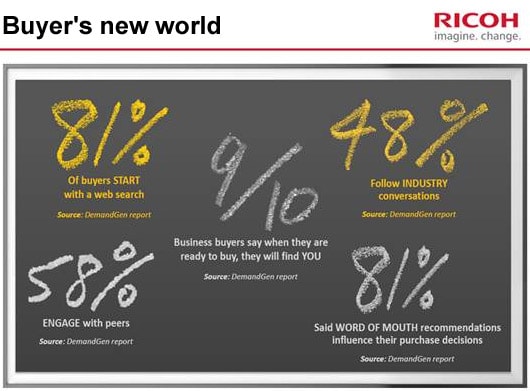 Within this new environment Octopus's Hamilton-Stent says that it's important for brands to "find the stories your competitors are not telling by a process of discover, define and deliver".
Octopus believe many B2B brands suffer from what it defines as "School Disco Syndrome." By this it means that frequently B2B brands want to be noticed, want to stand out and want to fit in. The challenge, as a B2B brand, is how to differentiate yourself within this context.
One option is to use stories that resonate with your target audience. As Kristina Erikson,  at The Financial Times points out, "people don't want to see single messages anymore, they want to see stories".
Billy Hamilton-Stent adds: "Real stories and narrative are important differentiators of your business."
Ricoh director Chas Molony also says that "B2B selling is about selling to people, not buildings."
Recent research from Octopus and Loudmouth identifies three challenges for buyers when selecting suppliers in a competitive market:
The buying process becomes more time-consuming
It is harder to distinguish between supplier propositions
The market has become too noisy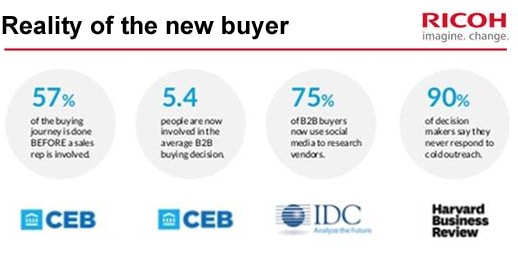 So multi-level relevant communications play an important part of the B2B buying cycle and to develop these through the purchasing cycle requires investment and a deep understanding of your customers and your product, as this customer acquisition cycle from Ricoh below shows: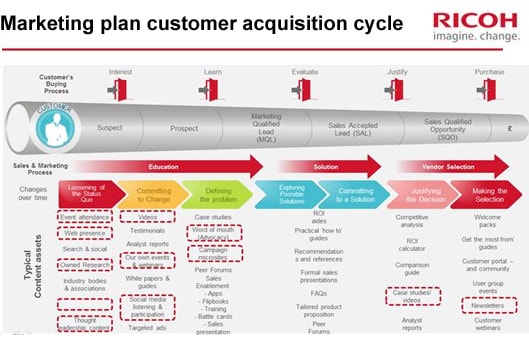 Conclusion:
Comms directors are concerned about competitive pressures and drive a culture of more, more, more!
A lack of differentiation and market convergence has confused customers and delayed decision making.
The solutions lie in communications levers that offer exponential value.
Thanks to Octopus Communications for partnering with us for this event
If you enjoyed this article, you can subscribe for free to our twice weekly event and subscriber alerts.
Currently, every new subscriber will receive three of our favourite reports about the public relations sector.