Are workflow improvements important in the modernisation of PR?
Change is the new normal in Public Relations. In a recent survey by MyNewsDesk, 84% of communicators reported that the scope of their role has expanded. They're covering more work and having to learn new skills in an ever-changing environment. Little wonder that 67% of respondents were also worried about keeping up to date.
But are PR workflow improvements an important part of this change? This is certainly the idea behind PRstack, a crowd-sourced directory of over 250 PR tools, along with two comprehensive PR tool guide books. I collaborated on the initiative by producing the website, publishing the books and writing a chapter.
PR teams have told us that with the wealth of information on offer, PRstack has enthused them to improve their workflow. Unfortunately, we haven't seen much evidence of improvement actually happening. So what's the holdup? My guess is that while they have the solutions at their fingertips, many PR teams haven't yet figured out exactly which problems they need to solve.
This is where The Essential Guide to PR Workflow Modernization comes in. In this guide I identify elements from design thinking and agile software development that will help teams dissect their workflow, understand where they need improvement, and look for solutions.
Here's an overview.
Visualize your work
Improvement begins with understanding. Before you can modernize your workflow, document the current state.
Don't limit this effort to a senior employee sitting behind a desk. The people that do the jobs are best at clarifying their work. So make your workflow mapping a collaborative workshop involving a diverse group of coworkers. Take those Sharpies and Post-its and get visual.
Track progress
Workflow mapping shows you all the work you do, but it won't help you clarify where you need to improve. To uncover that, track and visualize the progress of your work using Kanban principles. Keep an overview of work completed, work being done, and work still to do.
This Kanban approach allows you to easily identify bottlenecks and where clients are sending back work. Both types of waste are better avoided.
It's also helpful to map the value of your work. To keep clients and stakeholders happy, do less low value work and optimize high value work.
Lastly, invite your team to identify work they find frustrating. Often this will be low value, error prone work. No-one wants to do frustrating work. And the work won't be done well. Ask yourself whether it needs to be done at all.
Assign agile teams to small projects
Assemble compact and agile teams to improve distinct parts of your workflow, fast. They may want to experiment with changing the order of processes, the people involved, or the tools that are used. But start small. Invite teams to test their assumptions on low-risk, pilot projects at first.
Keep up momentum with regular, daily check-ins to track progress and remove impediments.
Invest in automation and technology
Software can simplify many tasks.
Start with the prstack.co directory of 250+ PR tools. Use a checklist of features to make your tool shortlist.
When testing software, the main goal is to learn fast if there's a good match. Involving your procurement department and lengthy budget discussions can get in the way of learning. Stay under the radar as long as possible.
To get going quickly, ask the vendor for a product tour. If the product seems promising, the next step is a short trial.
Foster a learning culture
Workflow improvement is a continual effort, not a one-off endeavor.
Plan improvement. Have regular show-and-tell opportunities for your project teams to present what they have learned to the rest of the organization. Document your new and improved workflow and train co-workers.
And lastly: learn by teaching. Share what you're learning with the world, and you'll grow a community that will push you further than you ever thought possible.
If you're curious about workflow improvement and keen to get started, The Essential Guide to PR Workflow Modernization will give you all the detail you need to know.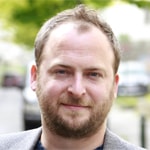 Bio
Frederik Vincx designs PR software (Prezly, PRstack), leads PR innovation workshops, and presents and publishes what he's learning along the way.
If you enjoyed this article, you can subscribe for free to our twice weekly event and subscriber alerts.
Currently, every new subscriber will receive three of our favourite reports about the public relations sector.