Appropriately, Cath Farrell, senior press officer at the National Railway Museum, starts her working day on the train to work
Blog
9 minute read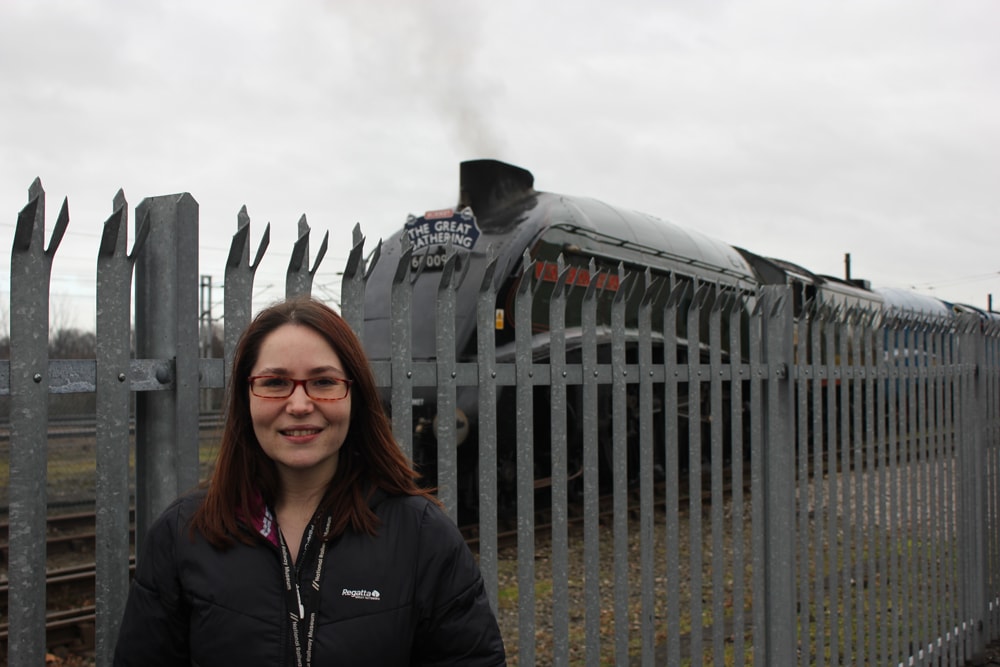 Catherine Farrell is currently working to raise media awareness for the Great Goodbye, the third event in the highly successful Mallard75 season at the National Railway Museum. The first event in York featured on the One Show and the national news on three channels.

My day
5.45am: My alarm is actually set for 6.05am but my four-year-old daughter has had a nightmare about Swiper from Dora the Explorer "fizzing" in her ear. I reluctantly get out of bed.
6.00am: My daughter has clearly inherited my persuasion skills and after a lengthy "negotiation" where I am the loser due to the fear of waking little brother who still slumbers peacefully, I quickly throw on some clothes (no luxurious shower for me this morning!). We go downstairs where I get my demanding little princess comfortable with a bowl of cereal and her favourite cartoon. My long-suffering husband has the unenviable Monday-Friday task of getting the kids washed, dressed and at the childminders by 8.00am before he goes to work.
6.15am: I dash around the house like a whirling dervish putting together school uniform, clothes and packed lunches for my two children. At the same time I try and make the finishing touches that make myself halfway presentable, or at least stop people thinking that every cliché they have heard about the dowdiness of the archetypal trainspotter is indeed true.
7.26am: I start my train journey to York. This is where I get 50 precious minutes of me time, where I collect my thoughts for the busy working day ahead. I check emails, Facebook and Twitter accounts and read the day's main stories on my trusty iPhone to see if there is anything rail transport related that we can offer a historical perspective to. An announcement about the HS2 could lead to us offering a comment from our expert curators for use by the nationals in their write-up's or sparking a debate on @railwaymuseum by asking our followers what they think. The National Railway Museum tells the story of the railways, right up to the present day.
8.22am: I walk from the station to the museum. One of the reasons the National Railway Museum is a destination for both leisure and business visitors is that it is literally a few minutes' walk from the station. I stop briefly to treat myself to a skinny cappuccino and pain au raisin from my favourite coffee shop.
8.30am: I switch on my computer and while it boots up I make coffee (if I haven't given in to temptation on my way through the station). I check my calendar and start to work my way through the most urgent emails. Today I receive a call on the train from the presenter of Radio York's breakfast show wanting a comment on the story on the front of our local paper about the Yorkshire Wheel. Planning for the Yorkshire Wheel had just gone in the day before, so we provide our pre-prepared statement to them. Much of our time is spent preparing for the "just in case" scenarios and we try and make sure we have statements and Q&As prepared for every stage of a project. The National Railway Museum in York has the largest collection of railway objects in the world and we can be asked about any item in that collection. The specialist rail press often ask for updates on popular locomotives including national treasure and the world's most famous locomotive, Flying Scotsman.
In the first half hour of the day I briefly look at any coverage that has come in, so if any of the team have meetings first thing I can quickly update them on our latest successes.
9.00am: The rest of the communications team arrive. If there is a news story we want to react to, I brief the press officer and the communications officer who mans the social media "hot seat". The press officer collates our coverage and saves highlights in a weekly briefing document. Anything we feel needs to be circulated immediately is sent to the pertinent teams. We usually receive a blend of regional and national press about our events, including the upcoming Great Goodbye, the final event in the Mallard 75 series of events and activities, of which HRH is the patron, which is in less than a fortnight!
10.00am: Coffee time! A lot of museum meetings begin at this time, it's a tradition to take in some caffeine before heading in to talk about subjects as diverse as project planning to operations forums discussing day to day life on the museum floor. Today I attend a meeting to discuss the success of the second Mallard75 event, the Autumn Great Gathering.
We regularly share best practice with the press teams at our sister museums in the Science Museum Group, including the Science Museum in London. This week we're visiting the National Media Museum in Bradford to attend the launch of the first of the Open for Business exhibitions, which explore how British manufacturing is still thriving. We chat to Magnum photographer, Mark Power, whose stunning shots of Bombardier in Derby will be the focus of our own May exhibition.
If there is no meeting, we may be selling in a story to contacts or writing a media call, press release or feature. Although many journalists have railways in the blood (the railways used to be one of the biggest employers so the majority of people have a railway worker or fan in the family) not everyone realises the influence it has had on society. This means that writing a well-researched feature that conveys the history behind the event is key. For example Mallard's unsurpassed world record marks a pre-war pinnacle for both luxury travel and British engineering. This is my favourite bit of my job as I have always loved writing.
One of the museum's key growth audiences are "positive parent" families who want their children to learn while having fun. This week we've been finalising our activity around our half term Train for the Tracks event, where the whole family can test out Jobs on the Railways.
I'm often up and down from my desk, our office is down the corridor from our senior managers and they regularly ask for advice on how to respond "on message" to correspondence, and we chase sign off. This week we've been asked how we can boost sales of our final Mallard 75 gala dinner which marks the end of a rail anniversary celebration that has caught the public imagination. Any North East organisations that want to entertain associates in a completely unique setting should make tracks for this sumptuous four course meal which features the premier performance of Steamsong, a multimedia opera by John Kefala-Kerr inspired by Mallard and the story of the A4s
2.00pm: Most days, I don't leave the museum for lunch but with two fantastic restaurants on site I don't have to! Our dining car restaurant is my favourite with its period furniture reminiscent of a railway station waiting room in the heyday of luxury travel.
2.30pm: The National Railway Museum is a prime filming location, as we have a collection of genuine period locomotives and carriages and we are perceived as the home of British and world railway history. A lot of our time is spent processing filming requests. As a national museum we have to supervise any filming on site and ensure that health and safety guidelines are adhered to. This week I am dealing with Boundless Productions about the filming of World War One with Michael Portillo for BBC 2 so I answer some enquiries from the assistant producer about what is possible with regards to archive items as well as checking facts, included in the script, for accuracy.
3.00pm: The afternoons are also a selling in/writing slot. I often use it to write comms plans for exhibitions that are coming up such as September's contemporary exhibition on the theme of trainspotting.
This week I have been talking to contacts about Great Goodbye which begins on 15 February and today I take a call from Owen at PA who wants to talk about photography opportunities in the lead up to the event including Mallard's journey from York up to County Durham. Three of Mallard's sister locomotives are in steam at this event and it takes place on the real railway tracks outside the museum so there are some really strong picture-led stories to discuss including some footplate cookery! Our in-house team spend a lot of time thinking of creative ways to drive media interest in our events, from cooking turkey dinner by steam loco, to a ceremonial shunt of Mallard to form July's 3 July anniversary Great Gathering.
We often receive calls in the afternoon from journalists writing up railway stories who want to check facts, depending on what they are and whether there is PR benefit for the museum, we pass on pure research questions to our Search Engine archive and research centre or work with them to find the answer.
4.00pm: I often schedule catch-ups with my team members and discuss the projects they are leading on. I discuss with our press officer our social media activity around the exhibition currently on display in our changing exhibition space. Lines in the Landscape showcases all the winners for the past four years of this stunning category of Landscape Photographer of the Year competition together for the first time.
4.30pm: The last half hour of the day is usually spent finishing off the written pieces I have started during the day and failed to finish due to incoming enquiries.
6.00pm: I usually catch the 6.19pm train from York which takes 50 minutes so I have some much needed relaxation time, usually reading a good book on my Kindle! I am currently reading George RR Martin Game of Thrones series and enjoying it even more than the hit HBO TV series
7.15pm: I get home and have cuddles with my children who are often already playing in the bath. After having chats about their day and lots of stories they are usually in bed by 8.00pm. I work full-time hours flexibly finishing early two afternoons a week so I can do the school run with the other mums and have some one-to-one time with my youngest who is a boisterous toddler of two and a half.
8.00pm: It's time to unwind after another hectic day. I occasionally go out after work with colleagues or with friends, but usually I cook a something quick for dinner, often stir fry with noodles, and depending on what day I've had a large glass of wine. I sit down with hubby to talk about the day and watch a movie or something that really makes me laugh like Big Bang Theory. I follow all the characters on Twitter and their updates often make me laugh out loud in the most inappropriate of places.
Cath Farrell, senior press officer at the National Railway Museum