The UK's most meaningful brands
Some things are hard to measure, yet it is often the less tangible assets of a brand that are the most valuable. This is one reason why it is worth finding out what people really feel about your brand, rather than just how much they are prepared to spend on it. One research study that delves into relationships between people and brands is communications group Havas Media's Meaningful Brands study. The latest study highlights which brands are connecting best with consumers and how these companies outperform the stock market by 133 per cent.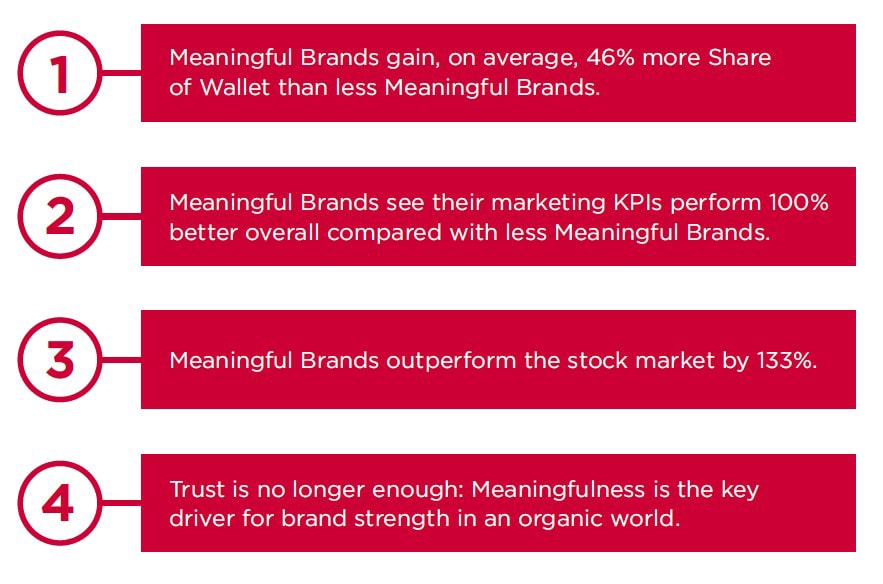 Paul Frampton, CEO Havas media and head of clients and strategy at Havas Media Group, says: "It is not a study about the brands people admire. It is a comprehensive analysis of which brands command the most meaning, the true value of meaningfulness and what people consider to be meaningful in different parts of the world."
The bad news for British brands is that only 3 per cent of them are perceived to "make a notable difference to our quality of life". This is down from 5 per cent in 2013. Frampton comments: "This metric is both a stark warning to marketers, but also an opportunity for visionary leadership."
Looking at the top five meaningful brands, it is not surprising to find traditional high-street stores Marks and Spencer and John Lewis. It is more surprising, that despite negative publicity online retailer Amazon has had over tax issues, it is in first position, with nearly two-thirds of consumers (64 per cent) caring if the brand disappeared. As all top five brands are retailers, this highlights the connection British consumers feel with the places they shop.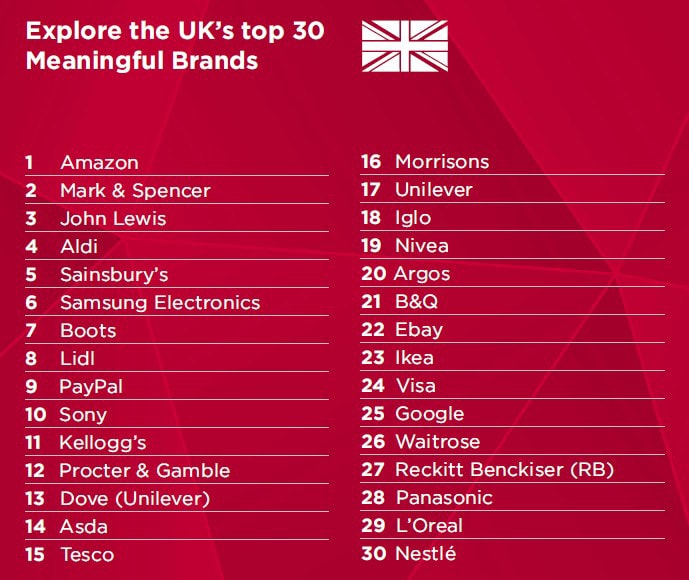 This differs from the world's top meaningful brands, which is dominated by electronic and digital companies, with Samsung at number one and Google at number two.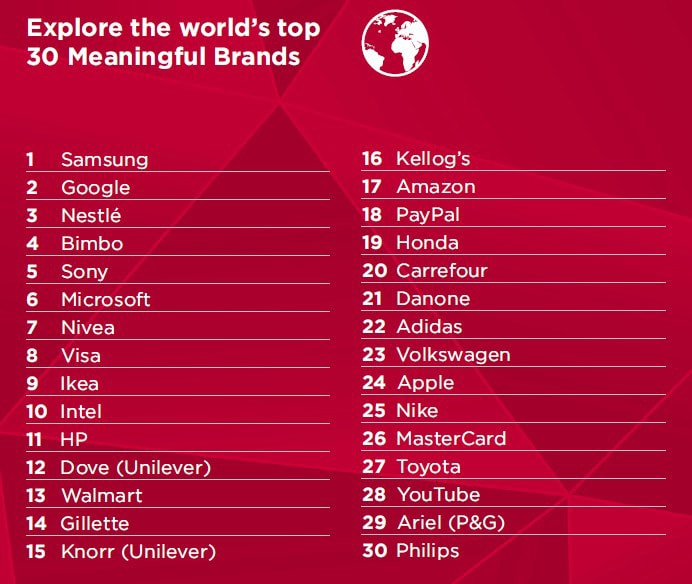 According to the study there are five steps a brand needs to take to become meaningful:
1. Understand the types of wellbeing that matter to people and what they expect from your industry sector.
2. Understand the types of wellbeing that you currently deliver.
3. Define the type of role you want to play in people's personal wellbeing, collective wellbeing or marketplace.
4. Identify the optimal mix of touch-points, content and experiences.
5. Measure and amplify.
Frampton concludes: "Every improvement in 'meaningfulness' is an opportunity to rebuild the broken relationship between brands and people and regain the loyalty, trust and respect of your audience."
Methodology
The survey interviewed around 20,000 Britons aged 18+ (19,400 to be precise) on almost 170 brands across 12 consumer sectors in the UK.
If you enjoyed this article, you can subscribe for free to our twice weekly event and subscriber alerts.
Currently, every new subscriber will receive three of our favourite reports about the public relations sector.