Research reveals how journalists use social media in crisis communications
PR Research
3 minute read
The impact of social media on breaking news has wide-ranging implications for crisis communication claims a recent report by reputation management consultancy Insignia Communications.
What role do Twitter and other forms of social media play in the following elements of how you source and report breaking news?
The report reveals how social media has changed the way journalists approach newsgathering. Three quarters of respondents said that social media is either essential or important in bringing potential stories to their attention earlier and getting news out more quickly.
It also provides them with direct access to witnesses who can tell their own stories and opinions on the situation, as well as invaluable real-time video footage and images.
How could businesses and other organisations use social media to communicate more effectively with the media and other stakeholders during a crisis?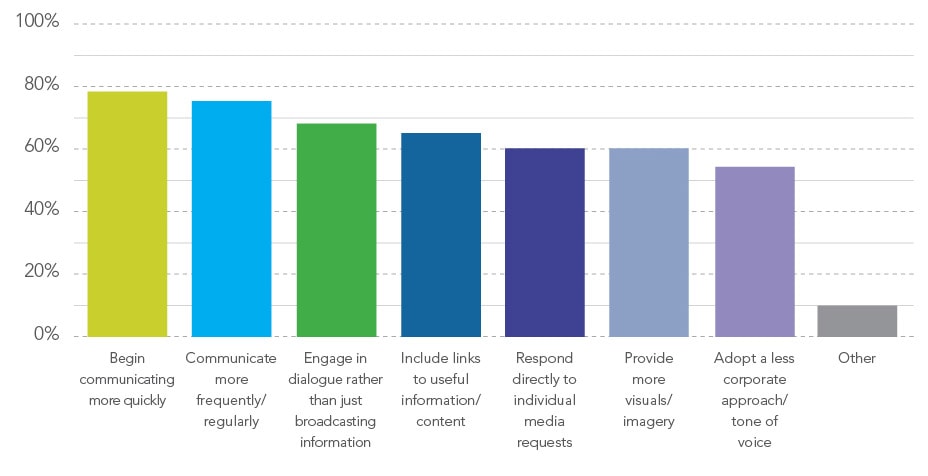 When asked how organisations could use social media more effectively to communicate with media and stakeholders in a crisis, the most important suggestions were to begin to communicate more quickly and to update more frequently.
According to Jonathan Hemus, managing director of Insignia Communications, early and regular information from the organisation at the centre of a situation not only meets the media's desire for verification of a breaking news story from a credible source, it is also to the organisation's advantage. He says: "The opportunity to fill the information vacuum and shape the narrative are critical elements of reputation protection."
"For communicators, it is not a question of when your organisation should be engaging with social media, but how. Organisations wanting to play their part in shaping the narrative of a breaking crisis need to be prepared to move at the same speed as the media."
So what does this all mean for communications professionals trying to protect and maintain reputation in a crisis situation?

Here are top tips for preparing and planning:
Ensure you have comprehensive social media monitoring.
Engage actively via social media channels when the going is good.
Identify and build relationships with key influencers.
Plan where you will host your online information hub.
Integrate social media channels into your crisis communication plan.
Identify and prepare human and technical resources.
Create materials beforehand – including images of people, products and places, maps, graphics, corporate facts and figures.
Know how to produce new materials (such as a YouTube message) in a crisis.
Rehearse, rehearse, rehearse – using conventional crisis exercises and social media simulations.
Methodology
The report 'The Effect of Social Media on Breaking News: A Media Perspective' was compiled in September 2014. A survey canvassed the views of national and international journalists, reporters and correspondents who break news every day on TV, radio, in print and online. An initial online questionnaire was followed by a series of in-depth phone interviews.
Written by Alex Johnson, Insignia Communications
If you enjoyed this article, you can subscribe for free to our twice weekly event and subscriber alerts.
Currently, every new subscriber will receive three of our favourite reports about the public relations sector.