Latest research defines the role of PR in the sales process
"Marketing in 2015 is defined by a contradiction: reaching audiences has never been easier; connecting with them has never been harder, " says Billy Hamilton-Stent, client strategy director at marketing agency Octopus Group, discussing the findings of recent "Tech Head" research which looks at how business decision makers decide what technology to buy when there is so much choice these days. As Hamilton-Stent explains: "The digital age has brought wave after wave of innovation and change, all of which produce a greater array of tools, formats and channels designed to reach out to people. However, that ensemble is available to all – it's very noisy out there."
With so much choice, it is not surprising that it is now taking longer for decisions to be made, especially when some of the people buying are not experts in the technology they are selecting. Hamilton-Stent lists the Gartner prediction that by 2020, 80% of IT decisions will be made by non-IT professionals.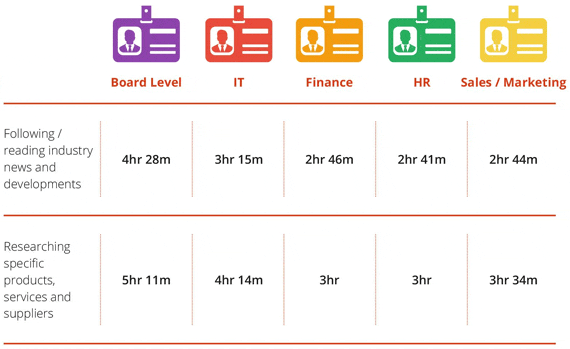 To help buyers, Hamilton-Stent says it is important to keep things simple, saying that there are many drivers that create the demand for simplicity, including the fact that just over half (53%) of vendors have less time to devote to reading and research than they did a year ago: "Content must be succinct and relevant to capture limited time. The audience is discerning and hungry for information … to connect in a short space of time, you need to know who you are talking to. It's interesting to note that infamously 'hard-to-reach' board level prospects are investing more time in information gathering and news tracking than any other group."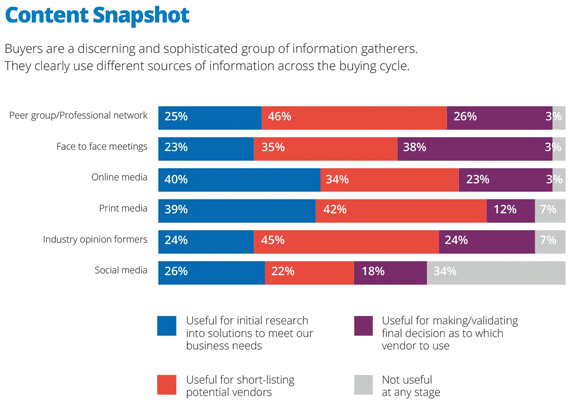 Understanding your audience is key, and the research highlights how prospects prefer to be spoken to. "When asking our respondents to consider the best approach, one finding in particular tells a very clear story: 76% agreed they would like suppliers to treat them more as a person rather than a potential sale."
The research highlights five key questions that you need to ask before you start the sales process:
Do we know our prospect? Most businesses start campaigns without knowing who they are really talking to. Segmenting your marketing is not a means of connecting with it. Audience knowledge is key.
Are we setting the right context for prospects? Communications must be based on creating the right context for your audience when you grab their attention. It's where thought leadership helps you set the agenda and expectation in the wilds of early engagement.
Is it a form or a formula? Form factors and content types are as important as messaging and planning. B2B marketers need an arsenal of tools to stand out in a busy, distracting digital world.
Is our campaign based on a sales outcome? Not all campaigns are designed for sales leads directly, but activity across the audience building, education and sales process should be linked together. Continuity is essential to avoid confusion.
Are we David or Goliath? Execute activity based on what you are good at, and what can make a difference. Great marketing sits somewhere between aspirational, achievable and affordable!
Methodology
402 key decision makers responsible for choosing and purchasing products and services for their company completed a survey during August 2015. Board Level (103), IT (128), Finance (77), HR (50), Sales & Marketing (44). Research conducted by Loudhouse Research, an independent consultancy based in the UK.
If you enjoyed this article, you can subscribe for free to our twice weekly event and subscriber alerts.
Currently, every new subscriber will receive three of our favourite reports about the public relations sector.