Public sector cuts and the recruitment confidence of UK PR
PR Research
2 minute read
The CIPR's latest Annual State of the PR Profession Survey of almost 2,000 members, shows that more than a quarter of participants (28 per cent) are worried about being made redundant because of the economic downturn. This is slightly higher (by 2 per cent) than last year. The sector that is particularly concerned about its future is the public sector, with nearly half (49 per cent) expressing fears about job security.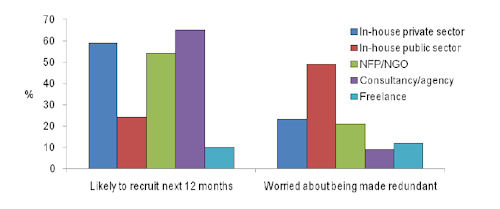 Recruitment prospects in the next 12 months
Polly Rance, vice-chair of the CIPR Local Public Services Group, says that these fears about redundancy in the public sector are not surprising, as they reflect a general anxiety across the whole of the public sector. The communications function is vulnerable in Rance's opinion, because communications roles are likely to be hit as back-office functions are cut to protect frontline services. Rance adds: "The decision to slash 287 marketing and advertising jobs in the COI is testament to the reality of the situation in the sector." However, Rance points out that PR should perhaps be less concerned than traditional marketing functions, adding "In the current climate, marketing will be hardest hit, as organisations concentrate more on lower-spend reputation-building activities such as PR and social media."
Not so long ago, the public sector used to be viewed as a stable career, where the salary may be modest, but other benefits such as job security, good pensions and generous redundancy terms, made up for this. These days it appears that not only is job security no longer a given, but redundancy terms may not be that great either. According to a report at guardian.co.uk on 5 July, the Government plans to bring severance terms into line with the private sector: "The government is preparing to force through a tough new cap on civil service severance payouts in order to reduce a multi-million pound public sector redundancy bill."
Those least worried about redundancies are freelancers and those working in PR consultancies and agencies. This suggests they are optimistic about their chances of adapting to whatever the future markets demand, and seek out areas that are most likely to thrive.
Methodology
ComRes surveyed 1,940 CIPR members online between 19 May and 9 June 2010. The survey was conducted according to the Code of Conduct of the Market Research Society.