Pharmaceutical firms wake up to the power of social media
Top pharmaceutical companies are making far more effort to engage audiences on social media claims a report "Connecting the Dots: Which Pharma Companies are Succeeding in the Social Media Space?" from agency Ogilvy Healthworld. Looking at the pharma companies which are most successful on social sites, the report suggests that in order to engage audiences, firms must be brave and prepared to have honest and meaningful conversations about their brands.
"We know that some pharma companies have been cautious in their approach to social media, but our report clearly demonstrates a dramatic and successful increase in activity," explains Rebecca Canvin, social media manager at Ogilvy Healthworld, adding: "social media has changed the way pharma companies communicate – it allows them to build corporate reputation and engage in genuine, meaningful conversations with audiences. For companies who want to stand out from the crowd it's time to be brave, get personal, educate and integrate social media into their wider marketing strategy."
On one hand, it is surprising that healthcare firms are so keen to use social media, as regulatory boundaries and compliance constraints provide some limitations on what they can say. On the other hand, social media provides the perfect forum to explain about latest health findings, as Canvin says: "People don't want to wade through hundreds of pages of disease information, but they may be more open to new knowledge on social media … Social media has the potential to revolutionise the way big pharma educates physicians, allowing doctors to obtain the facts they require without the many issues often associated with rep visits or advertising to clinicians."
Key findings
The average number of tweets by pharma has gone up by 530 per cent since 2013 and Twitter followers have increased by nearly 300 per cent
The pharma companies with the biggest communities aren't necessarily the most effective at engaging with their users and generating interest.
Followers reward pharma companies who post frequently and engage continuously – those that keep their networks fresh with regular updates have the highest interaction from the community.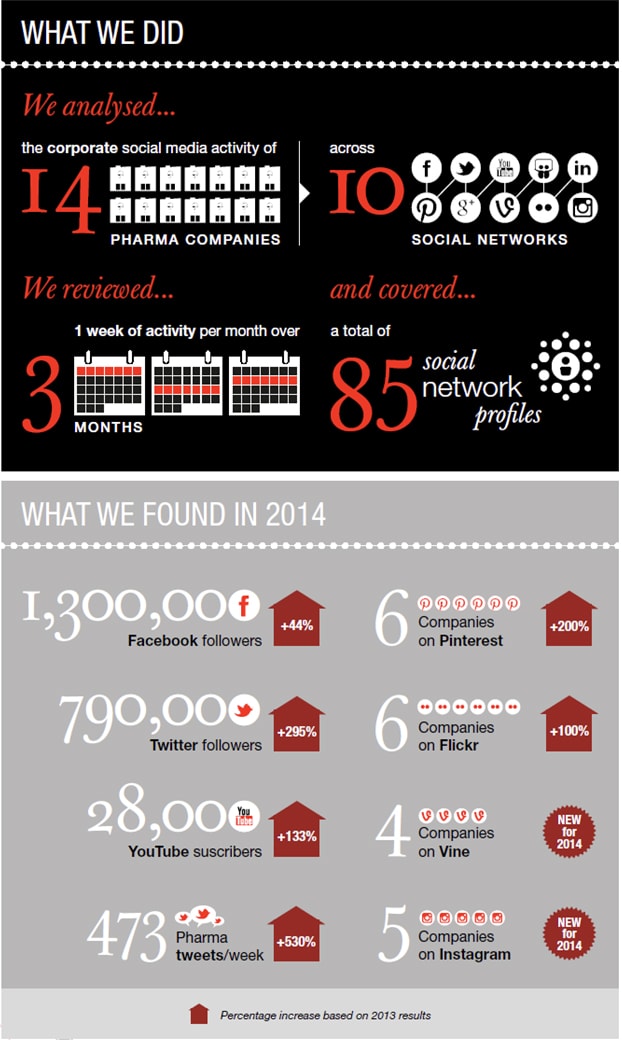 Looking at the firms which better communicate on social, it seems that size isn't everything. Those companies with the most followers don't always succeed in engaging their audiences. For example, companies Boehringer and Novo Novdisk have community sizes well below the average, yet score highly when it comes to engagement.
What does drive engagement is the amount a company uses social media. Canvin explains: "It isn't hard to understand why the most active companies are the ones enjoying the most engagement – after all, social media in its very nature demands participation and interaction. And, of course, any conversation is a two-way street. The increase in involvement that we saw in 2014 is not just because pharma companies are becoming more active, but because their audiences are also showing a little more willingness to jump in. Overall, it seems that followers will reward the companies who post frequently and engage continuously – those organisations with high activity scores received more likes and comments on Facebook and more replies from Twitter followers."
Methodology
The data for the report was gathered by monitoring 10 of the most popular networks for 14 pharma companies across six categories: social presence, social network, community size, activity, engagement and activity. The profile of each company was reviewed for one week per month for three months during 2014 to ensure sufficient data was collected.
If you enjoyed this article, you can subscribe for free to our twice weekly event and subscriber alerts.
Currently, every new subscriber will receive three of our favourite reports about the public relations sector.