Over 60 per cent of journalists think PR agencies cannot be trusted
PR Research
3 minute read
According to research carried out by research firm YouGov, just 34 per cent of journalists believe that PR agencies are useful. And this is 5 per cent lower than two years ago. When it comes to trust, only 1 per cent trust PR agencies a great deal, while 61 per cent either do not trust them very much, or not at all. However, the good news is that 66 per cent believe PR agencies have a role to play. The worse news is that this is down 7 per cent from 2009.
Characteristics of of PR agencies, as described by journalists: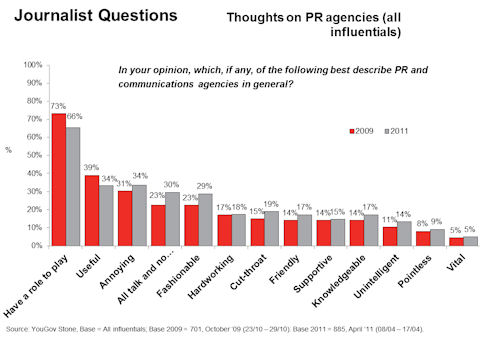 So why are PR agencies failing to please such an influential audience? Maxine Ambrose, partner at agency Ambrose Communications, says they only have themselves to blame: "If there are journalists out there who don't appreciate PROs, dare I say that the fault lies with the PR agency? Horrific but true, I still hear of PR consultants who follow up press releases with a phone call, or do mass ring arounds the day before an event to get bums on seats. They are, of course, kowtowing to a client's demands, but wouldn't it be better to explain to the client that in the long term, such practices are an own goal?" Building good relationships with key opinion formers, is a vital investment. Ambrose says, "You have to spend time and energy in building journalist relationships. They have busy schedules and other things on their plates: why should they suddenly write about your client?"
What journalists think of PR agencies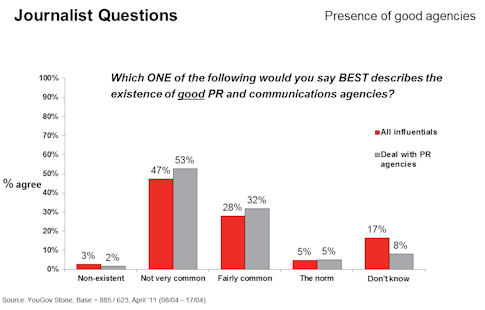 Simon Turton, owner of agency Opera PR, says the way to improve relationships with journalists is to follow simple, good-practice rules. Rule number one is that to only ever send relevant stories. He adds: "Too often PROs use a web-based distribution system to fire press releases to all and sundry, when they should target fewer titles that are relevant to a story."
Turton also advises using good manners and putting the journalist's needs first: "When a writer does pick up a story there's nothing wrong with thanking them for using it. When they do pick up a story I am always conscious to send things based on their timetable and not when it suits me."
Last, Turton says it is key to write press releases in a journalistic style: "I don't mean to try to do their job but get rid of any hyperbole and only give the facts. Yes, I have had clients say that a press release is boring because it doesn't use the words 'fantastic' or 'exciting', but you should let the writer make up their own mind. I know from feedback from journalists that this is exactly what they want and anything more than the why, where, how, when, etc, will get the story filed under B."
Methodology
The survey was completed by members of the YouGovStone Think Tank of over 4,000 influential people in the UK. The panel members include senior business people, journalists, academics, politicians, directors of charities, health practitioners and other opinion leaders. Around a fifth of panel members completed each survey using YouGov's bespoke online survey system. The sub-group of those who have PR responsibility was drawn from right across the board of survey respondents. The survey took place in April 2011 and the charts above are just based on journalist responses drawn from all the responses.