How to do social in a crisis
PR Research
3 minute read
From Nestle's Facebook bust up with Greenpeace, to the spoof BP Twitter feed during the Gulf oil spill with more followers than the official version, and 02's masterful use of Twitter during its service outage, almost every crisis has a social media element these days.

Some crises are rooted in social media (remember the YouTube video of unspeakable acts by Domino's employees?) or accelerated through the medium (these days, first images of an incident almost always come from Joe Public's mobile phone).

Organisations will protect their reputation more effectively if they are ready to apply the power of social media during an incident. Social media moves fast, so it's a fool's game to wait for a crisis before determining the role it will play in your crisis communication response.

Here are the four most important areas to consider.

1) Predict and plan
The principles of effective crisis communication remain the same. But social media has transformed the environment in which those principles are applied, with transparency, speed and spread being the three key changes.

So, organisations must review their reputational risk assessment to account for this new paradigm. Risk assessment is based on the likelihood of an incident occurring and its potential impact. The transparency that social media provides increases the likelihood of issues arising and its power to spread news far and wide heightens the impact of an incident. Crisis management planning must reflect this new reality.

2) Prevent own goals
It's hard enough to manage crises that come from outside: managing a self-imposed crisis is even tougher and more damaging to your reputation. Unfortunately, social media leaves you more vulnerable to self-inflicted harm due to the ill-judged comments of your people (Vodafone, Chrysler and even the Red Cross have faced issues of this kind).

The first line of defence is creating a clear social media policy and ensuring staff are properly briefed on it. To reduce the chances of staff inadvertently causing a social media crisis, introduce this in an interactive way during induction and conduct regular refresher sessions.

3) Train and test
Training and testing is a vital part of crisis management planning and it's no different with social media. You can't expect people to instinctively do the right thing on the most pressurised day of their career without building their skills and confidence ahead of time.
Identify the people who would form your social media team in a crisis, brief them on their role and run social media crisis simulations to rehearse the plan. This not only builds skills and confidence, it also identifies gaps in the plan and helps develop the right tone of voice for a crisis.

4) Monitor and respond
Success in crisis management means filling the communication vacuum. Social media provides the perfect platform to do this, but only if you respond fast and position yourself as the most credible source of information when a crisis hits. This begins with a thorough social media monitoring system.

Once you know what's being said about you, quickly respond, confirming that you are aware of an incident or that you are looking into it. Pre-agree approval processes for Tweets and other social media posts with your lawyers to avoid delays.

Social media moves fast so the ability to post regularly updated information is very important. But never forget another golden rule of crisis communication: speed is desirable, accuracy is essential.
Protecting your reputation from a social media crisis: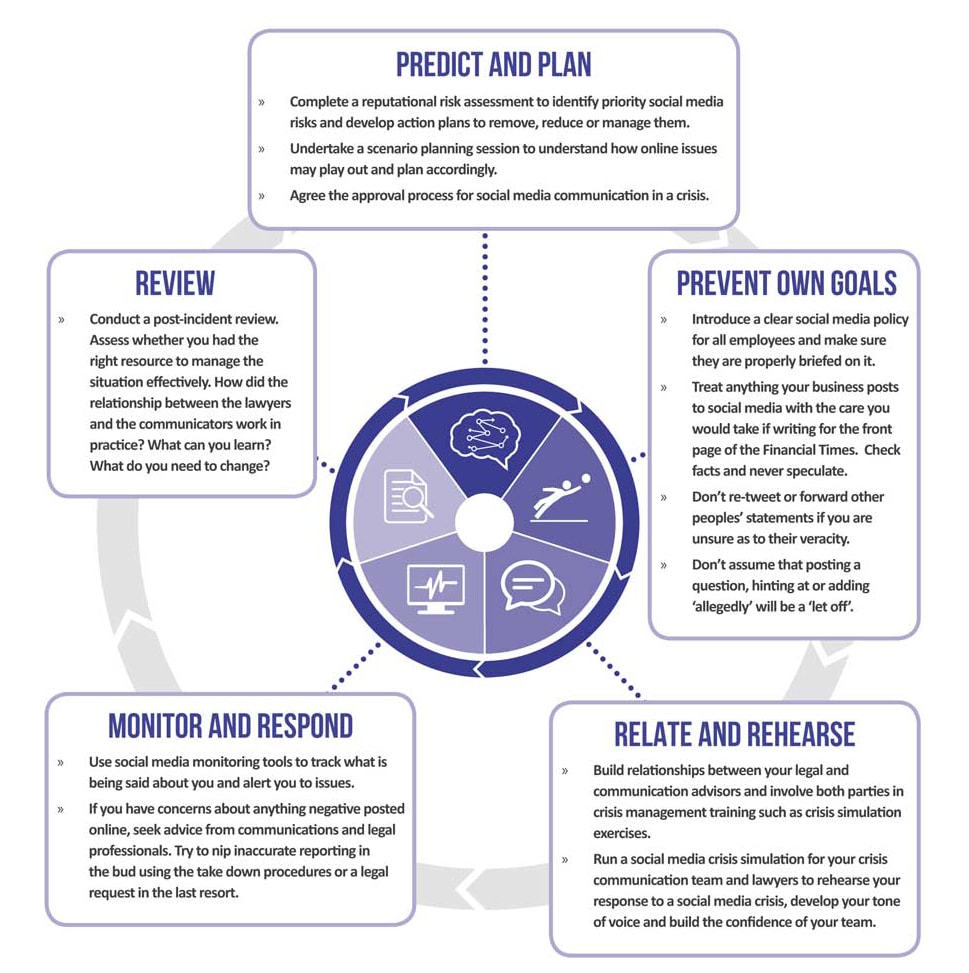 Background
For more information, download Insignia's report: The Impact of Social Media on Reputation Management – navigating a new legal and communication landscape.

Written by Jonathan Hemus, managing director of reputation management consultancy Insignia Communications
If you enjoyed this article, you can subscribe for free to our twice weekly event and subscriber alerts.
Currently, every new subscriber will receive three of our favourite reports about the public relations sector.