How brands create PR disasters
A PR crisis is a headache for any brand, but according to a recent study from media monitoring platform Visibrain, 78% of the time, brands have only got themselves to blame. Over three quarters of the biggest PR crises were caused by an internal marketing or communications error, as opposed to any sort of external attack or disruption.
Of the 109 crises analysed, the main culprits were issues such as ill-thought-out advertising campaigns, flawed communications strategies and poor product designs – all problems that could have been avoided with better internal planning.
The graph below shows the main internal or external causes of PR crisis situations in 2015: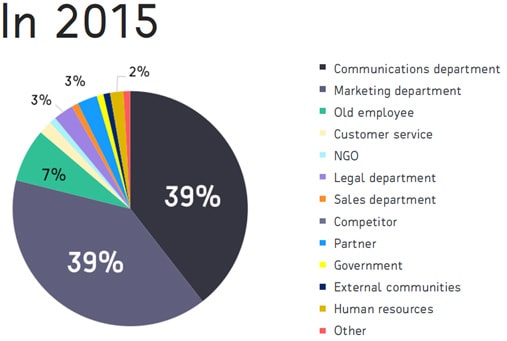 The vast majority of crises were actually caused – rather than solved – by the marketing or communications department. In contrast, competitors, ex-employees and customer service complaints accounted for only a tiny segment of the crises caused in 2015.
This is a worrying statistic for PR professionals and the communications industry as a whole, especially when some of the study's other findings are taken into account.
What makes a PR crisis?
Before digging any deeper into the research, it's worth considering how we define a "PR crisis" in the first place. Does a series of aggressive tweets constitute a crisis, or does it only count if your brand is splashed across the front page of the Daily Mail?
According to Nicolas Vanderbiest, crisis communications specialist at the University of Leuven, there are three "levels" of communications crisis:
Level 1 – A short-lived backlash with no real consequences for the brand
Level 2 – A PR crisis that caused more serious issues such as a product recall or the removal of an ad campaign
Level 3 – A true PR disaster resulting in permanent reputation damage and major loss of business.
Using this definition, the research shows that the number of more serious incidents is on the rise, with 28% percent of the cases studied having moderate to serious implications for the brand involved. This also represents an increase on last year's analysis.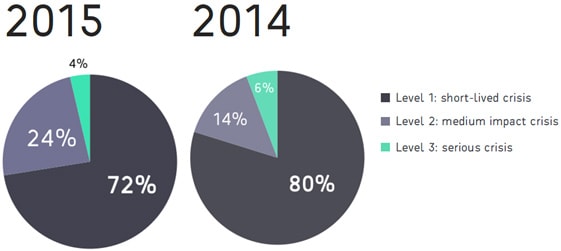 The Twitter factor
The perpetuity of such crises has not been helped with the rising popularity of social media and the increasing number of communication channels available.
In many of the crises analysed, social networks played a major part in PR disasters, and none more so than Twitter. The study found that 94% of crises either start or are spread via Twitter. Commenting on the findings of the study, Nicolas Huguenin, CEO of Visibrain says, "Whilst it's worrying to see so many businesses struggling to manage their communications approach, the fact that PR crises are being caused internally is not necessarily the worst news for big name brands. If such disasters were typically being caused by external factors, marketers would have far fewer opportunities to avoid them.
"Instead, brands simply need to take greater care in considering all possible outcomes to their communications approach, and keep an eye on any 'smoking' PR issues in the meantime."
Methodology
Visibrain's research was conducted in partnership with Nicolas Vanderbiest. His analysis examined over one hundred of the biggest PR disasters from the last year categorising them in terms of both origin and severity.
Written by Georgina Parsons, head of communications UK at Visibrain
If you enjoyed this article, you can subscribe for free to our twice weekly event and subscriber alerts.
Currently, every new subscriber will receive three of our favourite reports about the public relations sector.