Who has the best view in PR?
PR Insight
10 minute read
Does it matter if your office is a tip, with no natural daylight or even a decent coffee machine? Well, yes, it probably does. Having a nice place in which to work might not make your clients easier to deal with, but it can help you feel better in yourself, as well as boost productivity and encourage teamworking. So if you work in a comms role, but think your office is getting you down, here are views in, and from, other workplaces to show what your life could look like. As well as finding out about inspiring office spaces inside and outside, we hear whether it really makes a difference if you have a pleasant working environment in PR.
Why I love my office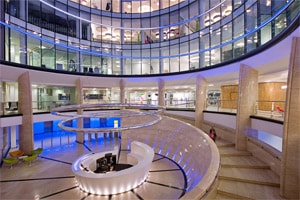 Jane Fordham, executive director marketing and talent at communications firm Golin: "Like any creative agency, Golin's people are our most important asset and so they, combined with the leadership team, are the driving factor in shaping the culture, happiness and success of London office. However, when we spend much of our working week in the office, our physical surroundings are hugely important too.
"Our culture is collegiate, collaborative and open, so this is reflected in the physical office set-up. Everyone, even members of the executive team sit out on the open plan floor so the agency has a tremendous buzz and collaborative working feels organic. There is a large kitchen area, brightly coloured 'team' signs that subtly divide the space, a branded drinks machine, glass meeting rooms, sofas for informal chats and eight large screens keeping us abreast of the media agenda.
"We moved into this space nearly four years ago having outgrown the last, creaking 60s block around the corner and it made an immediate difference. We do work hard so to be somewhere combining stunning architecture and history with a tremendous sense of light and space means that our busy working lives, benefit from the uplift of an inspiring, environment. But beyond what it means to our own team, we feel proud to show visitors into a best-in-class space that feels appropriate to house a successful creative partner."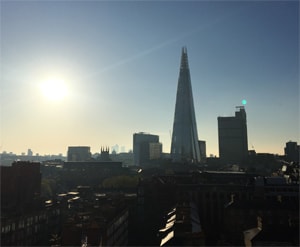 Denise Kaufmann, CEO of PR firm Ketchum London: "Working environments are extremely important – both internally and externally. Ketchum London recently relocated to the creative hub of the Southbank, and we used this opportunity to physically underpin our commitment to integration by encouraging all our staff to think across disciplines. Our completely open-plan seating plan allows our teams to hot desk where ever they are needed. We've found that creativity and collaboration flourish. We also have break out areas so we can come together for brainstorming sessions, meetings or one-on-ones to help with creative thinking and also to allow our staff to get away from their desks – an important component when it comes to great work. On top of this we made sure the design of the office was a combination of modern, fun and functional so that people like turning up to work every day, feel inspired and are able to do what they need to do. And if that's not enough, we encourage them to escape to the roof terrace for a break – the views across London are always enough to rejuvenate and inspire!"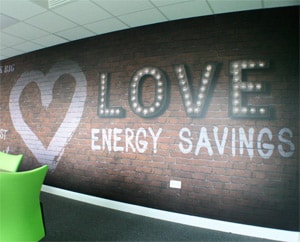 Phil Foster, managing director of energy-price-comparison specialist Love Energy Savings: "We recently moved into a plush new office facility in Bolton, and a conscious effort has been made to create a space that gets the most out of all employees. Our new HQ has been set up in a way that encourages collaboration between different departments. The open-plan setting allows for creative thinking and teamwork.
"We've also introduced an onsite gym that is free for everyone to use, as well as a designated 'break-out' area with a pool table. It's important that our team are able to relax in a pleasant environment. We want them to love coming into work every day. Never forget that a business is only ever as strong as its employees, and so if your team are happy and engaged in their roles, it can only benefit the company overall."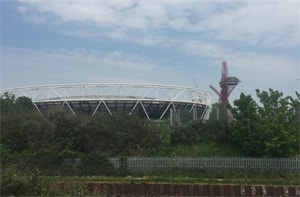 Frank Marr, director at PR and marketing agency A Marr & Associates: "We are lucky enough to be situated in Hackney Wick, opposite the Olympic Park. From our window across the canal we can see the Olympic Stadium and the Orbit Tower. The area boasts one of the highest concentrations of artists in Europe, so there's a lot of interesting art in the area, which is great for inspiration.
"We've worked hard to create a pleasant working environment and have installed a range of hanging and potted plants. Our office has a wonderful variety of different plants and the aim is to have each desk surrounded by them. We're keen to have lots of plants as I'm a big fan of being surrounded by nature. According to quite a few business psychology papers, plants are beneficial to everyone as they can help with all sorts of wonderful things, like increasing attentiveness, raising productivity, improving well-being and job satisfaction! We also have a relaxing area downstairs so that people are able to take some time out to comfortably carry out research and hold meetings."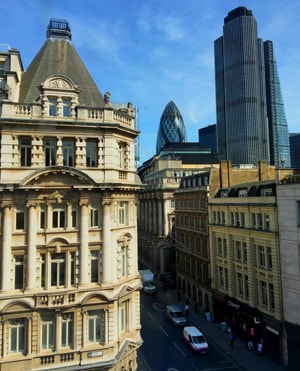 Rebecca Rees, senior account executive at PR agency Ruder Finn: "We've recently moved into different digs, so we're all in the process of soaking in our brand-new view of the City. Having moved from the hustle and bustle of Covent Garden, Moorgate is a completely different environment and one we have quickly settled into.
"Our new home has re-energised our team, with fresh places to discover and explore. This, added to our collaborative and flexible working space, means that the view from our desk changes each day. We're encouraged to try a different 'spot' each day, bringing in new inspiration to keep our creative juices flowing.
"From historic buildings like our own, complete with diamond vaults and built on old hospital grounds, to the glorious Gherkin outside our window and the peaceful Finsbury Circus on our doorstep for chilling on sunny days; there really is so much going on."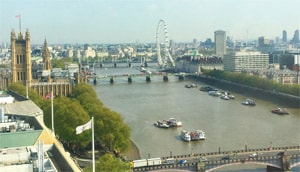 Charlotte Johnston, marketing executive at agency LEWIS: "Is it critical to business performance? No. Does it contribute to the atmosphere and productivity of the team? Definitely. Having a good working environment influences the way in which we work – there's no doubt about it. Whether that is having an open-plan, hot-desking office that encourages interaction and collaboration, or providing an innovative space to inspire creativity, our surroundings impact how we feel and ultimately how productive we are.
"Our office recently underwent a complete redesign to achieve these goals. The LEWIS London office is lucky enough to have the best of both worlds – in terms of the set up inside the office, and an impressive view out the window.
"Obviously being on the 22nd floor with 360 degree views of London helps boost employee moods. From our desks we can see a number of famous London landmarks, whilst the meeting rooms look directly out over Westminster and on to the London Eye. If nothing else, a workplace like this gives a sense of pride when people come in for meetings and tell you how lucky you are."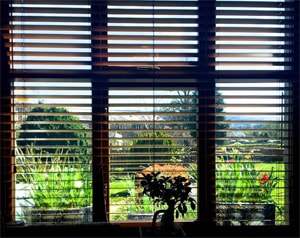 Simon Turton, owner of agency Opera PR: "Running a small agency means that I do spend quite a bit of time in our home office from which I have great views out over the local countryside and Chatsworth Park, beyond.
"Over the years my views have included the River Thames (when we were based in the Oxo Tower) and in one place there were no views at all (but the office was just off The Strand and in a great location).
"If you work for yourself then you can largely determine the views and the environment, but if you're working for a company or you're based in an office I think the most important aspect is a clean, light and airy workspace (not necessarily open plan (another article) and getting on with your co-workers. If we were based in a vibrant area where you could get a decent coffee and a sandwich and explore independent shops I think that could compensate for giving up the view of the green fields. But it would have to be very good coffee!"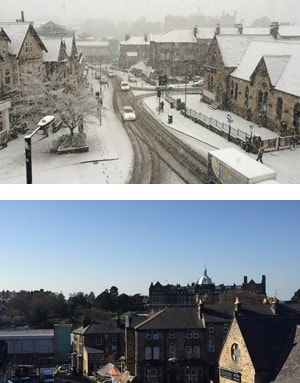 Ellie St George-Yorke, account director at agency Acceleris: "Our Harrogate HQ has been the base from which we have built our very own northern powerhouse and has allowed us to expand with a London office opening two years ago now. As you can see, the view from our desks can be unpredictable (these photos were taken within a few weeks of each other!) but nonetheless one which rarely ceases to amaze us. We have an open-office environment, flooded with natural light which we hope fosters a culture of creativity and teamwork. It is said that the increased vitamin D improves mood (keeping our team happy!) and productivity (keeping our board happy!). It makes a huge difference coming into work every day to a pleasant working environment and an equally pleasant team – the view from our desks encapsulates this with a mere glance over the rooftops of this fine Yorkshire town."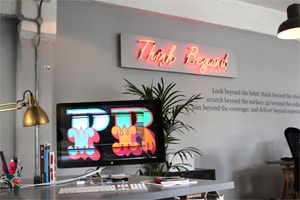 Alicia Mellish, managing director of agency Stir PR: "For me, interiors and the space you live/ work in have a huge effect on the way you feel about yourself and what you are doing. Research conducted by neuroscientists supports this theory – architects have made millions based on this philosophy alone!
"I am no architect and my take on interiors is purely a result of a healthy addiction to Pinterest, but we recently refurbished our offices. We are based on the seventh floor of The Tea Building in Shoreditch. A very cool office space, but it was looking a little too industrial warehouse chic – I think Derek Zoolander would have called it Derelicke!
"Our new-look office space incorporates a few home comforts to soften the harsh warehouse edges, antique rugs and reproduction lighting, but my favourite bit about it is our neon sign – Think Beyond. Our agency mantra is clear for all the team to see and not only can they feel good about working in a funky Shoreditch space (when our lease was up last year, it was important for us to remain in the area and the building), but they can feel confident they work for an agency clear in what it strives for and delivers.
"Don't get me started on the interiors project at home!"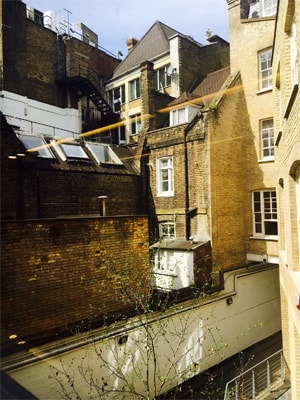 Scott McKenzie, joint MD and head of change and employee engagement at PR firm Lansons: "My morning stroll to work involves me walking past some of London's most iconic landmarks: from the Millennium Eye to St Paul's Cathedral. On a bright spring day the sun shines across London and you get a sense that you really do work somewhere truly special. This feeling is reinforced when I walk through our cobbled courtyard (an echo of London's rich heritage). Lansons has been awarded by the Great Place to Work Institute for each of the last 12 years, and from the free breakfasts, to the onsite massage, or drinks trolleys to celebrate business as well as personal milestones it has a unique culture that is unlike anywhere I've ever worked.
"What makes it truly special are my colleagues. It is a diverse organisation with 117 people from across the globe coming together representing different languages, different ethnicities, different world views. Like London, Lansons feels like a crossroads for the world – a place where people come together to exchange ideas. More than that though these global citizens care for each other. There is a tangible warmth and kindness."