Top tips for the perfect PR holiday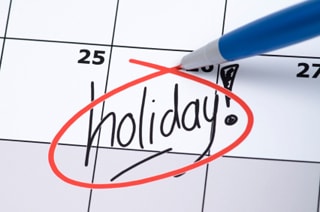 "We're all going on a summer holiday no more worries for a week or two …" sings Peter Jacob, new business and enterprise director at PR firm Weber Shandwick, quoting his mum's favourite crooner. But how easy is it to have no worries when you are on holiday?

Discussing how to switch off, Jacob says: "I like to let the body and mind rest and take a step away from the day-to-day trials and tribulations of work and relax. Whether it's doing charity work in Africa, spending time on the beach in Ibiza or surviving off insects with Ray Mears, holidays play an important part in how we think and perform at work. As well as a chance to turn off, it's also a great opportunity to freshen the mind, remember what is important, experience new things and get inspired."

"Creativity flourishes in solitude so taking a chance to do nothing and let the mind wander is vital and can lead to you sorting out a problem, thinking of an idea that a client would buy or maybe how better to run your team. My uncle invented a product after he watched his daughters blowing up a rubber dinghy in Spain. It was later brought by Waddington's and made him lots of money."

"Richard Bertrand Russell, one of the world's best-known intellectuals said, 'If I were a medical man, I should prescribe a holiday to any patient who considered his work important.' I think I'd probably agree."

The problem in our super-connected world, is that it is hard to disconnect completely. Jon Priestley, head of PR consultancy Wolfstar London, says that if you want to unwind, you must turn your devices off: "One benefit of taking a summer holiday is that you get an elongated period of time when you can relax, but the benefit of this can be lost if you're addicted to your smartphone, forever checking emails or making calls from the beach to find out how the office is coping without you. Whilst small business owners and entrepreneurs can rarely afford to switch off, there is a myth of being indispensable and the reality is that most agencies will survive without us for a week or two, regardless of how senior we are. Whether our egos choose to accept that or not is another matter …"

"My advice would be to ensure the moment you walk into your hotel room, you find the room safe, open it, throw your smart phone in there and lock it away for as long as you possibly can."

Top tips for perfect summer breaks

PROs describe their holidays and offer top tips for making the most of summer breaks

1. Stay away from phones and email
Andy Sommer, communications and public relations manager at insurance company esure: "I've been very lucky in that I've been able to do quite a bit of travelling. I took a trip around the world in 2009 and visited 28 different cities in five continents over a nine-month period. I also lived in Australia for eight years so you could say I'm a little beached-out. For me, my ideal holiday is based around having the chance to spend time with loved ones."
"The next holiday I'm taking will be a staycation at a cottage in Somerset with my wife and three dogs (yes three ... I need to see a specialist!). We're going to while away the time taking long walks in the countryside, eating and drinking a fair amount of local produce and I'm hoping to finish a fictional story I'm writing, just 40,000 words to go! For me, that's the perfect holiday. No commuting, no phones, no email, just us."
2. Relax – for at least a week (and take a good book)
Ian McKee, senior account manager at PR agency EML Wildfire: "Though I am the 'active' type, I limit my active holiday to the few days snowboarding in the winter. A summer holiday is all about relaxing. Which doesn't necessarily mean sitting by a pool all day, it just means the option of doing that if I want. When I get restless I want to go exploring. Which is why my wife and I have been on a lot of summer city breaks and not that many beach holidays."
"City breaks can be too short though. Like most people I need at least a week to really feel like I've distanced myself from work long enough to come back feeling refreshed. But whatever the duration, or location of my holiday, I always spend a lot of time reading. Just being somewhere else for a week, with plenty of time to immerse myself in a good story is all I need to come back ready to go again."
3. Handover before you go
Amanda Martin, global PR lead at market research company GfK: "The key to being able to totally switch off from work – and come back to the office with fresh energy and fresh thinking – is having a colleague you really trust. In my case, that's Stefan. I give him a full verbal handover of projects that need attention while I'm away, supported by an email with all the vital timings and 'in case this happens' scenarios. Then I turn my BlackBerry off – but my trusty colleague has my personal number, which I know he'll use if there is a decision that only I can make. That way I can forget about work, but with peace of mind."
4. Treat yourself
Claire Foster, PR manager at insurance company Direct Line Group:
"I would always choose a luxury beach to relax. I always come back to the office feeling refreshed and buzzing with ideas. I also think it's important to draft a comprehensive handover, it will put yours and your colleagues' minds at ease. It will also serve as a useful reminder when you return."
If you enjoyed this article, you can subscribe for free to our twice weekly event and subscriber alerts.
Currently, every new subscriber will receive three of our favourite reports about the public relations sector.