Ten things to love about PR at Christmas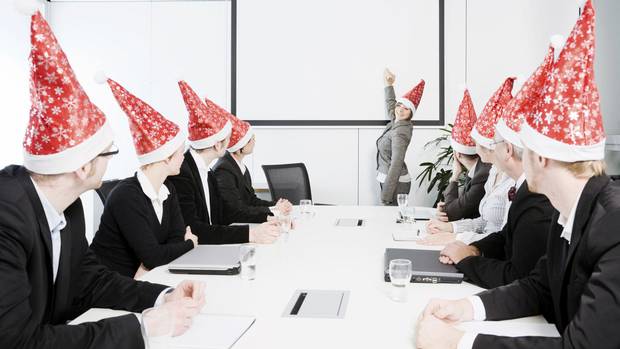 From Secret Santa to silly jumpers, with lots of office parties in between, here are ten reasons why PR is a winter wonderland at Christmas.
Kieran Kent, managing director of PR agency Propeller:
1. Christmas parties
"If you like Christmas parties then you can take your pick around this time of year! From our perspective, this is a good opportunity to catch up for a drink with clients, journalists and other industry contacts in an informal environment and find out how their year has been, what their plans are for the year ahead, as well as chatting about life outside of work."
"PR is a people business and you can't underestimate the importance of socialising with clients and industry contacts and getting to know them as people so that you understand what makes them tick. In fact, we've already held our client Christmas party this year – we decided to go for a date in late November to avoid the main party season rush when diaries get so booked up."
2. More media coverage
"Aside from networking opportunities, this is also a great time of year to get clients additional media coverage. The lead up to Christmas means prediction time for the year ahead so journalists are on the lookout for industry experts who can gaze into their crystal ball and discuss the big themes and industry trends in advertising, mobile, tech and data for 2015."
3. Secret Santa
"As we begin to look forward to our own staff Christmas party in a couple of weeks' time we'll be getting festive in the office as the tree goes up and we make our picks for this year's Secret Santa."
Jon Lonsdale, managing director or PR agency Octopus Group:
4. Santa's Grotto
"Octopus Group elves have been hard at work making our office twinkle with magic during this festive period. This year, we've taken Secret Santa one step further and brought the grotto (or Santa's Shed in our case) to our doorstep, complete with a real tree, and not-so-real snow."
"We're serving up mulled wine and mince pies to visitors (including reindeer) throughout December. Our custom-made Santa's shed has inspired Christmas cheer throughout the agency and put us all in the spirit for our upcoming annual Christmas 'do', with the perfect venue to have a jolly tipple or two before leaving for the big event."
Lucy Mulvin, account executive at agency Liberty Communications:
5. Christmas lunches
"Something that I enjoy the most about working in PR at Christmas is that it is the perfect time to get to know my clients on a more personal level. It provides a great excuse to meet up for a Christmas drink or go out for lunch and this is so important in building and strengthening lasting relationships."
6. Over indulging
"I love Christmas and am proud to say that I'm one of those annoying people who begin the Christmas countdown in October. To me, Christmas is the time of year to eat a little bit too much, enjoy a bottle or four of something bubbly and have a fun time with people you care about."
Areti Tziorta, PR account executive at creative agency Big Cat:
7. Reflecting on the past
"Already working in a fun and creative environment, Christmas time just adds that extra bit of magic. Christmas is a period of reflection and giving. We have been thinking back to all of the hard work that we have carried out this year for our clients and also internally. Even though we praise everyone's hard work all year round, it's December that enables us to look back at the past 12 months and think "us Big Cats did good!"
8. Giving to others
"Our satisfaction comes from achieving our client's objectives and more, which replicates Christmas time because it makes both them and us happy. Once a month we run our book club for internal meetings and brainstorming sessions that takes place after work. Even though we work hard, we still strive to be better and one way that helps is through engaging conversations, such as book club. Here, we sit with our beers at the end of the day and the rest of the team to discuss ideas. This time, we thought of giving back to people at Christmas for #GivingTuesday – we like to give back and encourage generosity with everyone."
9. Christmas jumpers
"We celebrate our hard work during the festive period by taking clients out to the best winter pop-ups around and setting a date for us to all wear Christmas jumpers in the office."
Daniel Heale, chief client officer at global communications agency, Way To Blue:
10. Innovative campaigns
"It's nice to work in PR at Christmas because it is a very competitive period for releases and accompanying coverage, especially with earlier outlet deadlines, so it's great to see who can be most creative and get their campaign seen and message engaged with through all the noise."
"Christmas is a time where you can really capture people's imaginations when it comes to social media activity. There are so many brilliant marketing campaigns around this time that allow you to show off your creativity and pull off ideas that resonate wonderfully with an audience."
If you enjoyed this article, you can subscribe for free to our twice weekly event and subscriber alerts.
Currently, every new subscriber will receive three of our favourite reports about the public relations sector.