PR Insight
6 minute read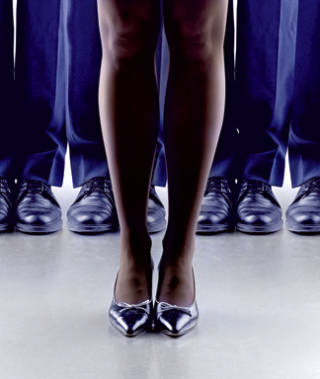 Discussing whether there is sexism in PR these days, Francis Ingham, PRCA director general, reluctantly concedes there is: "While I'd hesitate to go so far as to suggest that sexism is rife in the PR industry, I would say that a degree of sexual inequality still pervades".
Ingham quotes the PRCA's PR Census 2013 which shows that while 63 per cent of the PR industry is female, male board directors and partners of consultancies outnumber female board directors and partners by more than two to one.
Striking a positive note about how women feel about working in PR on a day-to-day basis, Angela Oakes, joint-president of networking association Women in PR (WPR), says: "Rather surprisingly, when I took a straw poll on sexism in the workplace amongst a small group of WPR (Women in PR) members there was little evidence of any sexism at all."
"I think the reason for this is that women dominate the PR industry in this country. A man working in an office where the majority of his colleagues are women would have to be very brave (or foolish!) to behave in a sexist way."
But it's not all good news. Oakes also has examples of times when women do face discrimination: "I have personally experienced sexism in the PR boardroom amongst my male director colleagues. There have been several occasions when I have witnessed men hire the prettiest girls from a group of interview candidates as account executives, or PR assistants; with scant reference to their qualifications."
"One male director used to say to me quite openly that it was great for the agency image (and I suspect his) to walk into the client's office with a beautiful, young girl at his side. Having at least one attractive girl on the pitch team was also felt to be really important."
Oakes says this is shameful, but is also an illustration of the image-obsessed world we live in, "put into even sharper focus for those working in the image-driven PR industry."
But the main way that women get an unfair deal is in their wage packets, because such a small percentage reach senior positions compared to men. Oakes says: "Because of this marked difference in seniority, men in PR are earning 50 per cent more than women on average – that's a huge difference!"
The problem is trying to balance family life with work, a juggling act that mothers tend to take on more than fathers in our society. The PR world, as it is, simply doesn't support working mothers enough.
Oakes explains: "The nature of the PR world demands long working hours and today's culture of 24/7 communication means that we are losing PR women at middle management level, as they drop out of the industry. Alternatively, some become freelancers, or start their own small PR business, to allow themselves the flexibility they need to juggle family and work commitments."
So how does Oakes suggest the industry change, in order to stem the loss of female talent? "The culture and working practices, especially in the larger consultancies, needs to be more flexible on where and when we work. Today's technology allows for a new and more mobile way of working. I often receive emails from senior PR women late in the evening when their children are tucked up in bed."
PRCA's Ingham agrees, adding: "The PR industry needs to provide better opportunities for women returning to work after maternity leave, and also improve flexible and remote working opportunities. And we need to seek inspiration from great role models such as our former chairman, Alison Clarke, CEO of Grayling UK & Ireland."
Last, but not least, women need to be more demanding. Oakes points out that it has been well documented that a man is far more likely to put himself forward for a promotion beyond his abilities than a woman. "In a way, that is a harder issue to tackle, as this has to come from women themselves."
"Mentoring initiatives and networking organisations like WPR can help boost women's confidence in the workplace. We need to address these issues both for women and for the PR industry as a whole."
Soundbites
The challenge of having a gender balance in the boardroom
Vicky Beaney, director at PR agency Eulogy!:
"I would argue that the challenges facing women become more visible at a senior level. When taking on a more senior role, you are expected to provide strategic consultancy to clients. In typically male-dominated industries, such as in the financial or legal sector, persuading clients to buy in to your expertise can be harder and requires a certain level of confidence. However, this is by no means industry-wide and in my experience many women excel at PR consultancy and getting clients to act on their advice."
Sue Grant, co-founder of agency onechocolate communications:
"There was sexism when I started in PR in the 1980s, in fact some of the blatant sexism that went on then, people would be sued for today! So it's great news that this has largely been eliminated. However, the most disappointing issue for me is that you look at most agencies and young women are at the coal face but as you climb the ladder, more women fall away and so what you are left with is a boardroom dominated by men – wouldn't it be refreshing to have an equal number of men and women in the boardroom? Undoubtedly it is changing, but just not fast enough in my opinion. So the PR industry still has a long way to go to create real equality."
Andy Sommer, communications and public relations manager at insurance company esure:
"I've worked in a number of organisations both agency and in-house. I've been fortunate that the majority have had a good split of gender with males and females occupying senior roles. I've always found this to be a good combination because you get a wide range of ideas from people with diverse backgrounds. There have been situations where a gender has dominated the make-up of a team and this can lead to a herd mentality in my experience. I've seen this in both male and female-dominated teams. My advice to PR leaders is to consider the impact to the dynamics of the team from new hires. Having a diverse team can often lead to a wider range of abilities and a much more innovative approach."
If you enjoyed this article, you can subscribe for free to our twice weekly event and subscriber alerts.
Currently, every new subscriber will receive three of our favourite reports about the public relations sector.