Three ways PR can take advantage of latest Instagram changes
Opinion
3 minute read
If you work in PR you know the power of Instagram when it comes to building a brand. You will also probably know that the most successful brands are the ones that adapt best to change.
Take sports brand Nike. When Instagram introduced its 15-second video capabilities in June 2013 Nike embraced it, increasing its Instagram following from 4 million to 12 million since April 2014 in large part due to it's video strategy. Nike has been extremely successful on Instagram because the video content it uploads looks stunning and is engaging and Nike absolutely knows the kind of content that appeals to its community.
Now in its latest big update, Instagram has done away with the constraints of the square. Announced using a little-known movie franchise called Star Wars, Instagram showcased the new teaser trailer using its new flexible frame size capabilities. This means your photos and video will no longer need to fit within the 1080px x 1080px square frame (although there is still the option to crop to this) that has become synonymous with the photo and video sharing app's identity.
As a user-defined platform, Instagram appears to have recognised that its users were looking for more freedom with their image and video framing. The recent trend of apps like Whitagram allowing users to retain portrait and landscape aspect ratios only reinforces this fact.
So how should a PR professional using Instagram to build a brand and community approach these fundamental changes?
1. Have fun with vertical video
I truly never thought I'd say this, but vertical video looks to be something worth embracing. Not only do you have a monopoly over the whole of your community's phone screen but it is new creative territory for brands to explore following Snapchat and Periscope who have already paved the way in full screen video.
Brands like the Food Network and Vice are already creating short, engaging vertical videos on Snapchat that look fantastic.
So, for example, fashion brands can now show off full outfits in a way that has not been possible before without dwarfing their subjects within a square frame. This is the way we are consuming content now and it is all defined by how we naturally hold our phones.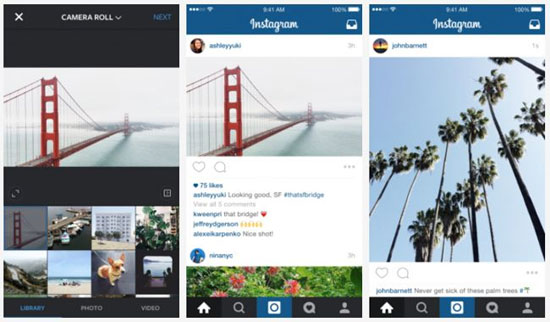 2. Don't forget the overview
The beauty of Instagram is that your images and video don't really stand alone. The best Instagram feeds work beautifully as a whole. They have a feeling, a colour palette, a tone that defines their brands.
The new changes mean that vertical video and images are cropped in this tiled view and will begin to create a messy aesthetic if the curator of the feed is not careful. A seemingly small thing to consider that will have a big impact on the way a brand's Instagram looks as a whole.
3. Watch what your influencers are doing
Instagram is a two-way street. So much of it is user-defined you should ensure you keep a close eye on what your brand's influencers/ bloggers are doing with their personal feeds and how their followers are responding.
Every brand is different and framing that works for one may not work for the aesthetic of another. It's very early days and I'm curious to see whether the Instagram community will embrace these new capabilities when it comes to video or stick to the original Instagram square. There is only one way to find out; embrace the change, experiment with landscape and vertical video and always record results and interactions.
As a video production company born and thriving in the digital world, we look forward to the brands we work with experimenting with these new changes and pushing the boundaries of creativity on the platform.
Article by Kim Knight, business development director at video production company Cherryduck