The Mayweather Pacquiao fight shows the dangers of hype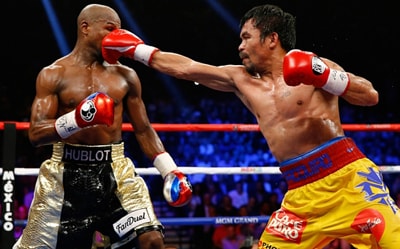 Dubbed the 'Fight of the Century', Floyd Mayweather Jr V Manny Pacquiao, or #MayPac, was a fight five years in the making.
For many boxing writers and fans alike it was set to conclude the old pub debate "who is the greatest pound-for-pound fighter of all time" once and for all.
Surely, a sporting event of such magnitude and significance did not need much hype?
However, the PR's behind The Money Team, PacMan, Top Rank, HBO and the MGM Grand begged to differ. Ever since the fight was finally contractually agreed the hype-machine started. Everyday in the build up we were subjected to stories across TV, press and social about #MayPac. Miss it, and the inference was you were somehow opting out of a once-in-a-lifetime experience, set to be embedded in the sporting annals of history – fabric of society stuff.
Commercially, the hype worked. Maybe.
The numbers are staggering; aside from tickets sales the fight was set to generate revenues in excess of $400m according to Repucom; five days before the fight ringside seats were being sold for over $180,000 and when numbers are finally in, the 16,000 crowd are anticipated to have generated about $74m in gate receipts – $14m more than Super Bowl XLIX, despite it having four times as many seats; a record four million plus pay-per-view subscriptions; and in the UK the betting markets, always a good litmus test for hype, broke records – with 18 bets a second being placed just before the bell (and that was 4am UK time), #MayPac was Sky Bet's highest ever staking event, excluding Grand Nationals, even more than the 2014 World Cup Final. But how much of this can be attributed to the marketing efforts around the fight? It's hard to say - there was plenty of momentum in the air anyway.
So what's the problem? Integrity and audience strategy
The PR looks successful, but it didn't deliver on the promise - and may have been counter-productive in the long-term. As Lennox Lewis has stated on Facebook 'this is what the CASUAL boxing fans thought what they were going to get from #MayPac (A Hagler V Hearns classic).
If you enjoyed this article, you can subscribe for free to our twice weekly event and subscriber alerts.

Currently, every new subscriber will receive three of our favourite reports about the public relations sector.