Why rugby referee Nigel Owens is my PR hero, by Golley Slater's Matt Appleby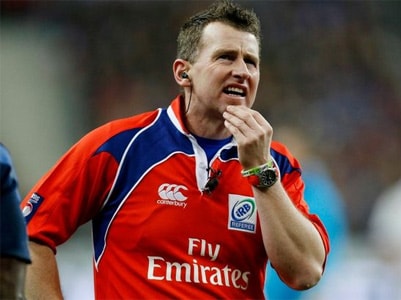 When you think of inspirational PR figures, an international rugby referee might not seem the obvious choice. But Nigel Owens is literally at the top of his game and has become an icon in world rugby and a great ambassador for the sport and for Wales.
He's an inspirational figure whose courage and professionalism have been recognised on and off the pitch. Last year alone he took charge of the 2015 Rugby World Cup final at Twickenham, was World Rugby Referee of the Year and was named Stonewall's sportsperson of the decade.
He is open in his 2009 autobiography about the challenges he faced as a teenager and in coming out as gay, something made all the more difficult given his profession. It's this honesty, courage and integrity that make him such a superb role model.
And they also make him an outstanding communicator. Thanks to advances in rugby technology we have a referee's eye-view of interactions with players. Nigel's trademark fairness, frankness and clarity clearly earn the respect of players – even under pressure and in potentially aggressive situations – but also lead to the sort of well-managed games that become classics. As a fan, when you see that it's Nigel in charge, you immediately relax – it's going to be an entertaining game.
Week in, week out, his refereeing is a masterclass in the power of humour – to build rapport, to assert control, to defuse antagonism and to earn respect. He's the king of the one-liner – "The football stadium is 500 yards that way…" – and there aren't many referees whose words end up on t-shirts and youtube for positive reasons!
Nigel Owens personifies values which all PR professionals should aspire to share – to overcome challenges with transparency and confidence, earn professional respect through fairness and equality and to communicate openly, positively and with a sense of humour.
Article written by Matt Appleby, managing director of PR agency Golley Slater Cardiff
If you enjoyed this article, you can subscribe for free to our twice weekly event and subscriber alerts.
Currently, every new subscriber will receive three of our favourite reports about the public relations sector.