Blog
3 minute read
Two students from Boston University in the States, Rachel MacDonald and Danielle Muzones, are spending six weeks at PR firm Grayling as interns. Here they describe a typical day at the agency and how they are finding life in London.
Our day

7:30am [Danielle]: My cell phone alarm goes off and I welcome the day with a stretch. I freshen up before meeting Rachel in the lobby.

8:20am[Rachel]: Danielle and I walk to the 52 bus stop in front of Hyde Park for our 15-minute commute to Bressenden place. We find two open seats on the top of a double-decker bus, and spend the journey scrolling through social media and gazing at the scenic route.

9:00am [Danielle]: We arrive at the office on the 20th floor and say "Good Morning!" to the team. Time to make a fresh pot of coffee and get in the queue for a cup (the line builds up quickly). For a second I miss the convenience of a Keurig instant coffee (a phenomenal US invention), but I know that a fresh pot always tastes better.

9:00am [Rachel]: We sit back at our computers and join in on a conversation about the upcoming election. As the discussion fades, we update our supervisor about our ongoing projects and each take on a new assignment.

10:00am [Danielle]: The start of the week always calls for a round-up of the team's updates. We gather around a table in the conference room and discuss the week's new business pitches, client meetings, and individual schedules.

10:50am [Rachel]: My research from Friday indicated a few journalists that would likely have interest in a client's upcoming campaign, so I make some calls to give them a heads up. Their accents seem stronger over the phone and most reporters speak fast, but I do my best to keep up.
.
12:00pm [Danielle]: I grab my coat and head out with my supervisor to meet a trade journalist. We have friendly conversation over lunch and the exchange proves to be beneficial for many of our clients.

1:00pm [Rachel]: There was talk about a new business prospect over lunch in the kitchen, so I offer my help with preliminary research. I love that I get to learn about new issues and trends daily.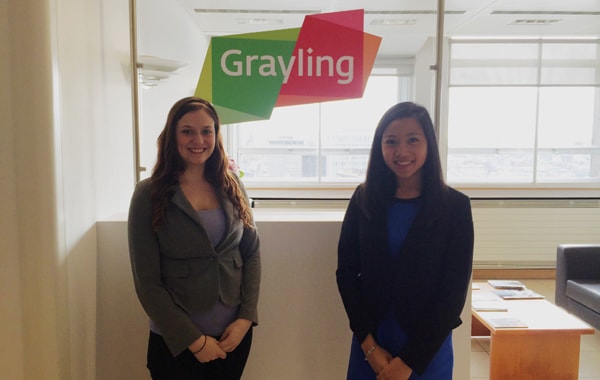 2:00pm [Danielle]: A client's social media plan needed some updates, so I began writing up tweets. It's a fun challenge to fit a message in just 140 characters.

2:30pm [Rachel]: It Is time to touch base with my contact at the Royal College of Art as I am in the middle of organising a lecture to drive entries in a client's contest.

3:00pm [Danielle]: Rachel and I meet with our supervisor to catch up on our projects. We receive great feedback and I take down key notes for future reference.

4:00pm [Rachel]: Danielle points out that somebody brought sweets for the team, which happens too often. I justify my indulgence because I am trying a new British dessert – talk about being cultured.

5:00pm [Danielle]: Time to brainstorm for a client's upcoming campaign. Our team is in the early stages of planning, so we meet and delegate responsibilities for the weeks ahead.

6:00pm [Rachel]: We pack up our things and say goodbye to the team, but I am captivated by the sun set over Big Ben and the Eye – what a view! I take a picture to capture the moment … and to post on Instagram for all of my friends back home.

8:00pm [Danielle]: We intern by day and we study by night. After cooking up a salmon and vegetable dinner, I hit the books for my British PR course and eventually drift off to sleep.