The integration of social media customer services and PR
Blog
3 minute read
Last week we put on a social media customer services seminar in partnership with Diffusion PR.
I suspect if we had put on this event five years ago it would have been me, the guys from Diffusion and my event manager in attendance. However, the spectrum of public relations has increased and these days most good PR teams integrate their activity with their customer services teams - so the event was a sell-out.
This slide summed up nicely for me the importance of social media customer services in modern communications: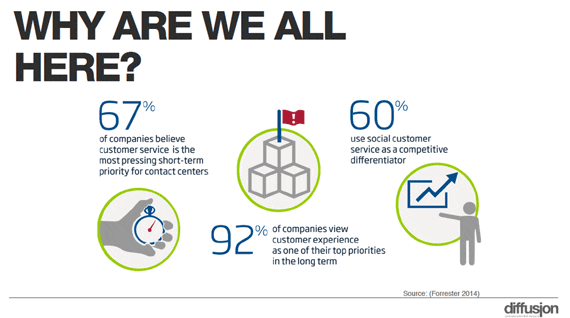 We had a stellar speaking line-up with senior comms people from Santander and London Midland and a senior social/customer services speaker from Telefonica.
At the event Diffusion's Tom Malcolm outlined the differences between Facebook and Twitter from a customer services perspective:
Customer services on Facebook:
Brands answered over three quarters of all questions globally on Facebook in q2 2015 and received 1.5 million questions (source socialbakers)
Facebook users who complain on the business's page will likely already be fans of the brand
Facebook users may not expect as instantaneous a response as Twitter users but they will still expect their response to be taken seriously
On Facebook pages very often the customer services element of the engagement is more active in the evenings after fans get home from work with peaks of activity at around 9pm
Facebook users will also gather together on a community against a brand if they feel they're not being listened to
Characteristics Facebook users prioritise in a brand:
Empathy
Personalisation of response
A clear and public willingness to help
Consistency in response
Customer services on Twitter:
Brands answered under a third of all questions globally on Twitter in q2 2015 and received 7 million questions (source socialbakers)
+ 80% of UK Twitter users access the site via their mobile
As such, the average Twitter user is much more likely to be out and about when Tweeting compared with Facebook users
However, Twitter users who will be contacting a brand to make a complaint may not necessarily be following or previously engaged
The instantaneous and accessible nature of Twitter as a platform means that there is generally an expectation from a Twitter user that they will get an immediate or quick response
Characteristics Twitter users prioritise in a brand
Immediacy of response
Response in channel
Expediency of resolution
A clear and public willingness to help
Consistency in response
Francis Thomas, head of corporate affairs at London Midland, discussed the segmented channel specific approach to customer relations. This included dividing the Twitter presence into two separate feeds – one for a customer relations and a second for the media. Francis also discussed the benefits of taking an integrated cross channel approach to travel crisis situations.
Finally Bradley Tooth from Telefonica discussed O2's approach to customer services.
O2's approach to customer services: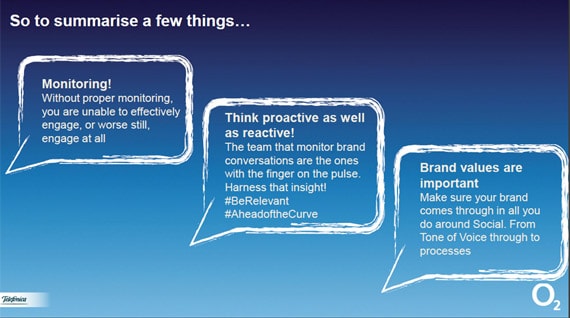 Brad discussed how O2 has used humour, engagement and campaigns like OMG it's Friday to ensure its brand values are reflected in its social customer relations.
Finally here is a social customer care checklist from Diffusion's Tom Malcolm:
Do you have visibility on performance?
Is the tone of response consistent??
Is performance tracked and shared?
Is response channel appropriate?
Are you building a team of evangelists?
Are you driving ROI!?