The importance of communication in areas of crisis
Blog
3 minute read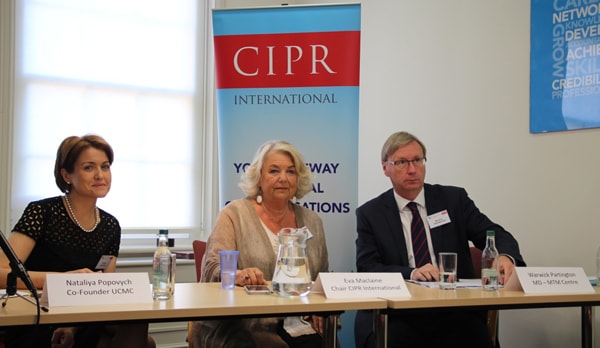 An appeal for vigilance through information and communication was made during the event 'Global Messaging and Stakeholder Engagement during a crisis', hosted by CIPR International on the 21 May in London. The focus of the evening was on the role of information and communication in areas of crisis, with a particular reference to the Ukraine and the Baltic States.

"Events such as the Ukraine crisis remind the world that even in the 21st century we can't stop being vigilant and that we need to work for balanced and open information," said Nataliya Popovych, co-founder and board member of the Ukraine Crisis Media Center (UCMC).

"Communications are ubiquitous these days, and we are influenced by them all the time. The communicative strength of images and stories about people's lives can be very powerful, in particular when these stories and images relate to tragedies," underlined Warwick Partington, managing director of the MTM Centre for Leadership and Management Development. "However, these are not always used for the good. When information is used for a specific strategic objective, for example in order to raise mistrust and fear, it can be very dangerous."

Both Popovych and Partington defined the current situation in Ukraine as a 'hybrid non-linear warfare', in which a strategically key role is played by information. This is the motivation that brought Popovych to found in March 2014 the Ukraine Crisis Media Center (UCMC). The project was set up in collaboration with professionals with different backgrounds. "We all volunteered," recalls Popovych. "At the beginning, all of us thought that after a while we would come back to our jobs."

This, however, did not happen. "There is a war not openly declared," said Popovych, "and we are all engaged. Opting out is not an option."

Popovych explained how the UCMC communication strategy has been developed. The centre offers open information both to an internal and an external public. The internal public consists of the vast majority of Ukrainian people who live far from the most troubled areas and for whom it is even difficult to believe what is going on there. The external audience is the international community and those journalists in particular who want to provide unbiased information and have a commitment in thoroughly checking the sources.

The goal of providing balanced information is pursued both reactively, by unveiling potential false news and stories, and proactively, by following a strategic plan. Engaging and detailed infographics, videos, press releases, news translated into English, German and French, events organised with the aim of raising consciousness, awareness and people involvement: all these are ingredients which support the communication strategies of Popovych and her colleagues.

Communications in areas of crisis are a real challenge, which require sound professional preparation, a theme which is particularly important for CIPR. Critical analysis and critical thinking are for Partington the key assets that really help a professional correctly analyse complex situations like these. Popovych, on the other hand, highlighted two different streams that were crucial in building her as a professional. On one hand, her studies in political science, sociology and philosophy, which helped her read and understand the situations by going beyond the surface. On the other hand, her postgraduate studies in journalism and international relations, and the experience of working in different countries (such as Russia and the USA) which helped her understand the nuances among different cultures.